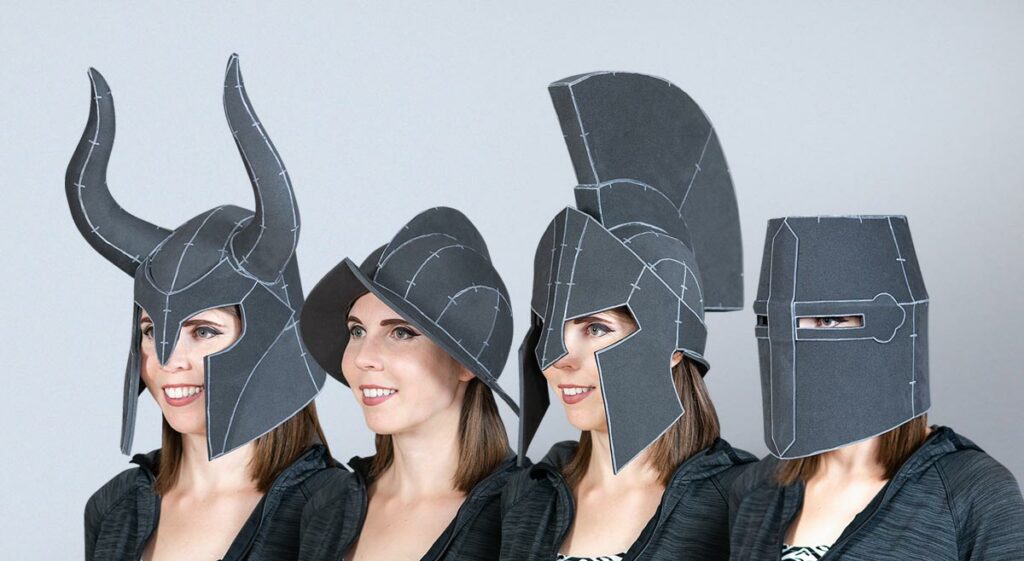 Helmets are fun to wear and to goof around in! So I made a new pattern collection for you! This one includes these 5 different designs:
Kettle Helmet
Morion Helmet
Crusader Helmet
Nordic Helmet
Spartan Helmet
All of them can be easily scaled to fit any head size and customized to your liking! Just scroll down this page to see an instructional video on how to use the patterns!
I recommend using 5mm low-density EVA foam as well as contact cement to create these helmets. The crusader helmet also has two parts that use 2mm. Other materials work as well of course. You can find more instructions on how to make costume pieces and props in my tutorial books or on my YouTube channel.
Vector files are scalable and can easily be resized or changed to your own liking. I used my own head as the base for these patterns (56cm circumference above the eyebrows). Just use your own head circumference and then print it out in with the right scale factor. All my patterns are designed to fit myself (Svetlana) at 100% scale (I have
a 56cm, 22inch head circumference). Just chance the scale based on the table in the file if you want to print them smaller or larger.
You can also get all of the helmets individually of course! 😁  Just click/tab on the images blow!