One of the most frequent questions I get is how I turned my hobby into a business and if I planned to become successful as a "professional cosplayer" – which is still a super weird word for me.
So, let me tell you my story.
First things first. I'm not a Cylon. I had no plan. In fact, nothing of what I did followed any other purpose than "to have fun". I started with cosplay in 2003 when I was still in school and spent my afternoons reading articles about these so called "conventions" in my favorite anime/manga magazines. It was a different time back then. The Internet wasn't really a thing yet, we had cameras that shot on analog film and phones that just had a black and white screen. Yes, we still even read printed magazines ON PAPER! Gosh, I'm so I'm old! Anyway, those fan gatherings looked like fun and those "cosplayers" seemed like they really enjoyed themselves. I dressed up for the very first time as the great Saiyaman from Dragonball Z and had a great time! This was before there was any Facebook so I only had a few crappy photos of my costume that I scanned in to have them on CD and that was basically it. Still I wanted to keep doing it and the next convention was already planned. I continued for the next couple of years with maybe two super cheap costumes every year. 2003 was also the year I met Benni. We've stayed together since then!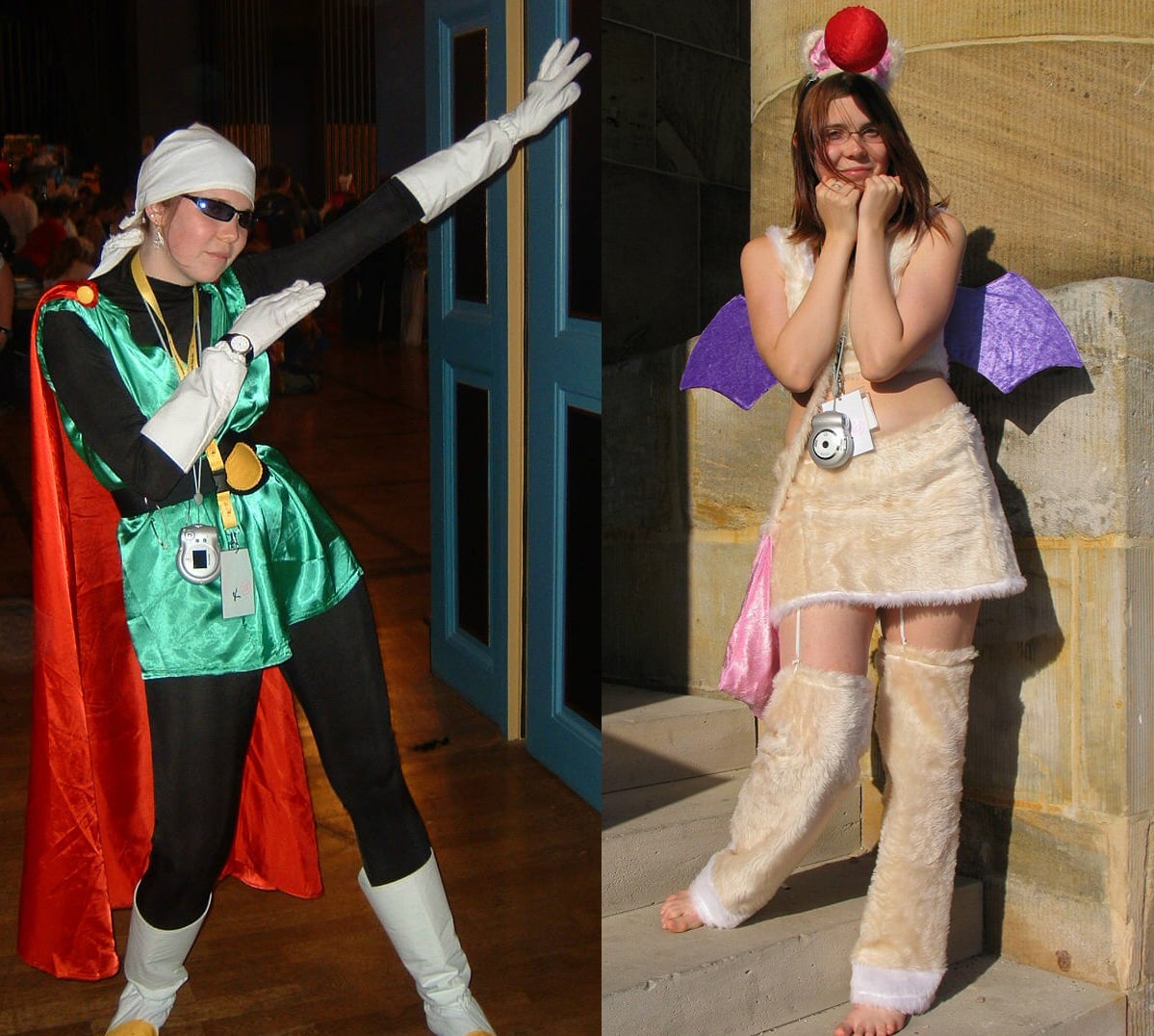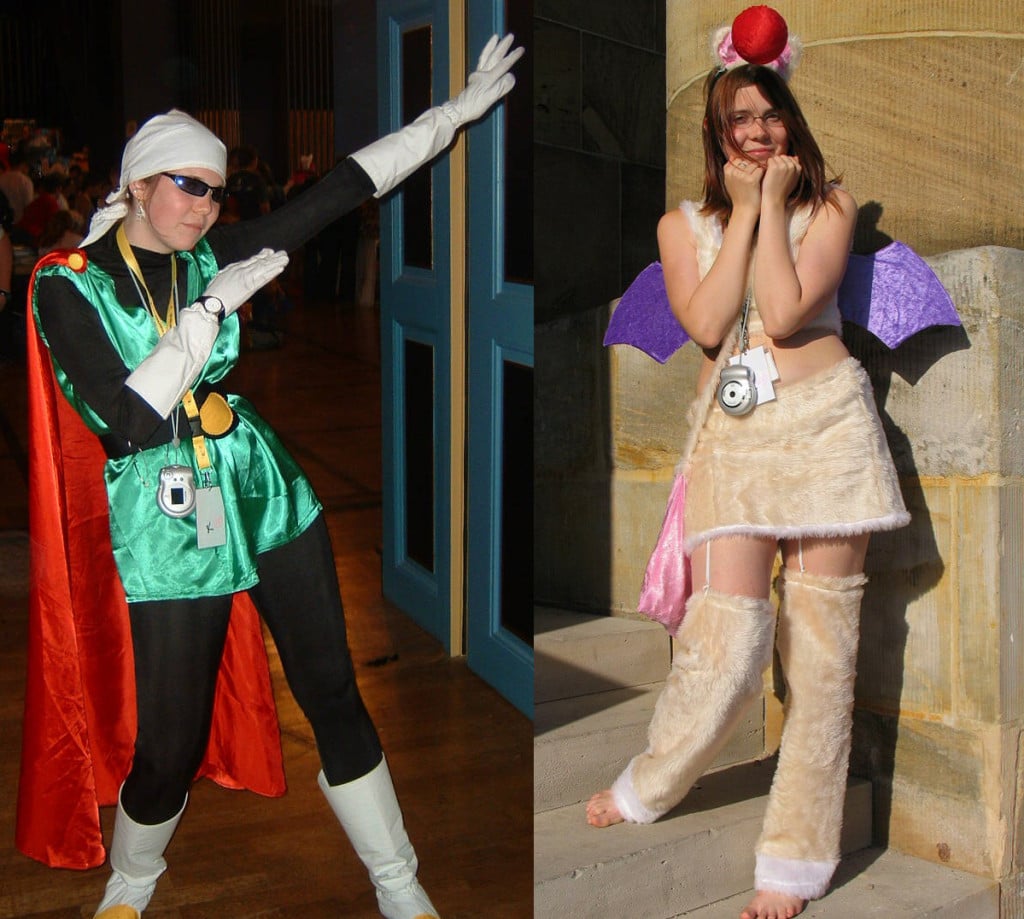 Fast forward in time to 2009 when I participated in a silly online costume contest, which only required me to upload a photo of me in costume. There were maybe five other participants but I was lucky enough to win! Well, in fact this was the very first European costume contest held by Blizzard, haha! Now it's held every year at GamesCom, quite similar to the one in the states at Blizzcon. I was excited, but also a little bit panicked. The first prize was a trip for Benni and me to Blizzcon, but I barely passed my exam in English and did not even have a passport which I needed to be able to travel anywhere outside of the EU. English was totally weird and I wasn't able to speak a single word and still remember how awkwardly I acted when I tried to communicate with somebody!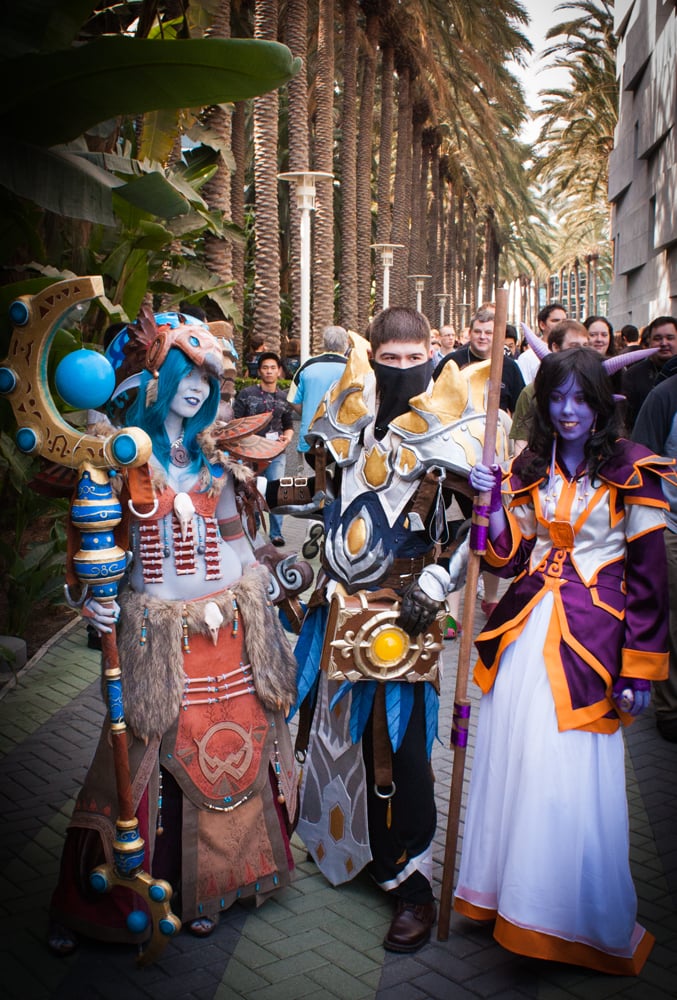 Alice and Mario Roy from Arms Armor and Awesome and at my first Blizzcon in 2009
In a panicked act of pure desperation I created an account on cosplay.com one month before my flight and began to upload my finished costumes and progress photos. Internet forums were my only way to at least practice a bit of English writing with somebody. I also created my own crappy WordPress website on which I started to upload my costume progress and wrote about how I made things. I even had a few readers sometimes! I still wasn't able to speak a word at BlizzCon later, but I made my very first trip to the States and explored a completely new costume community. It was super exciting!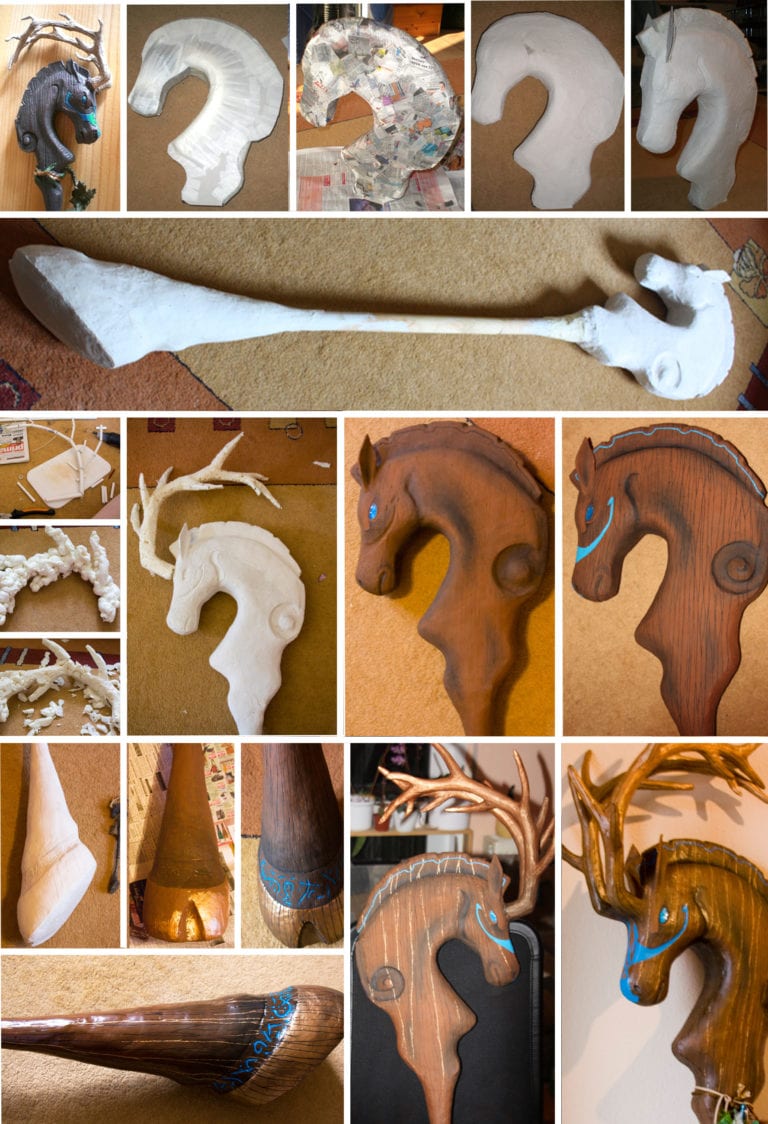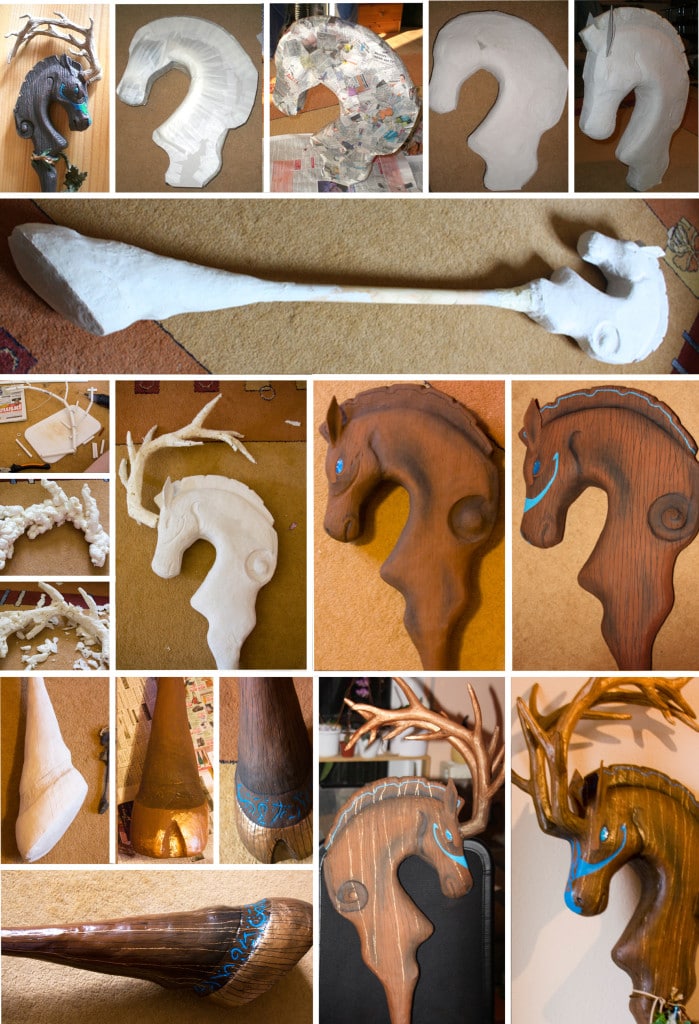 This was one of my first tutorials! Journey's End from World of Warcraft
When I returned I immediately wanted to make an even bigger and better costume so I searched for a fitting material that would be more durable than the paper mache I used up to this point. Someone online mentioned a material called "Wonderflex" but without being able to find any explanation of what it is or how it works I had to order it pretty much blindly. With only guessing how much I would need, I basically spent my entire savings on shipping (150$ just for shipping to Germany). The material arrived and I worked day and night to finish my first armor costume, which was my Asmodian Gladiator! I uploaded and documented my entire work process and after a while people started to ask me questions about how I made things. It actually became more and more every day. I tried to answer as best as I could since I knew how it felt to not find any tutorials for the thing you wanted to make and it was awesome to finally have found someone to help you out. It's what I would have wished for as well!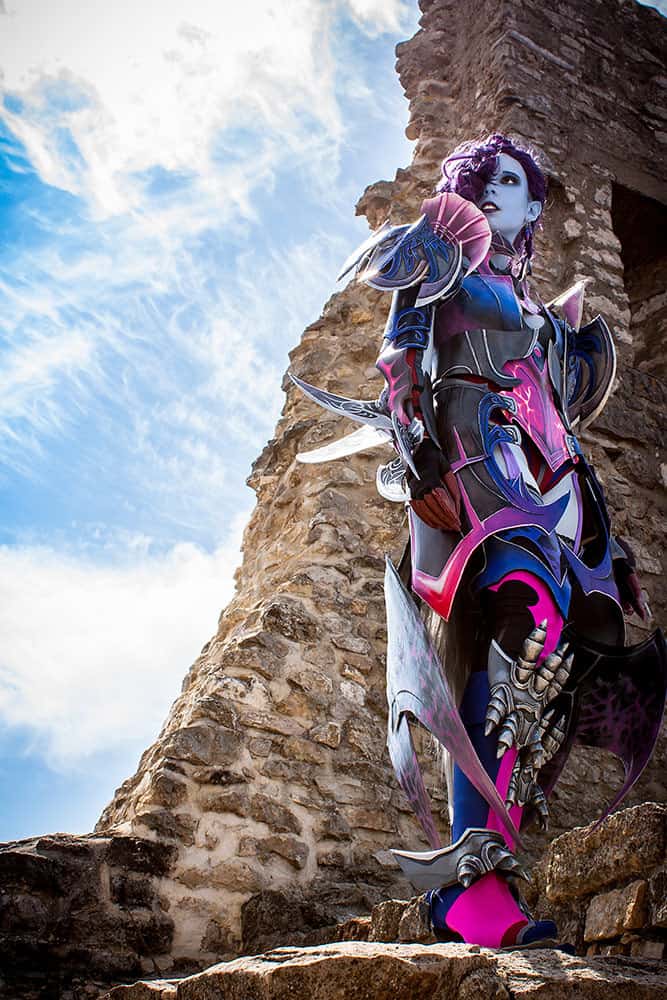 My Asmodian Gladiator was my first full armor costume!
In 2010 I discovered Youtube and uploaded my very first tutorial about Wonderflex. This was a pretty cool thing since I now had a link I could give to people to answer all of their questions. Plus they were able to find it through Google when they searched. So to still have enough time for crafting, I begun uploading new videos and people seemed to really like them! (My Expanding Foam Video just hit one million views a few weeks ago, haha!) Additionally creating tutorials was extremely rewarding. People were thankful for my help and showed my their creations as well. Around that time I also discovered a German material called "Worbla". It was pretty similar to Wonderflex, though it was more flexible and easier to find in Germany. Avoiding long shipping time from the USI've switched then to Worbla and created one of the first tutorials about it. So when people became curious about the material, they easily found my work trough Google. And the number of cosplayers who wanted to get into armor making grew really fast! Today Worbla is a big thing in the cosplay community and it seems I influenced that as well with my tutorials. Plus, helping people is awesome! With barely having any friends at school and constantly being an outsider my whole life, this was a great feeling! It was a great motivation to get better and keep on doing what I did.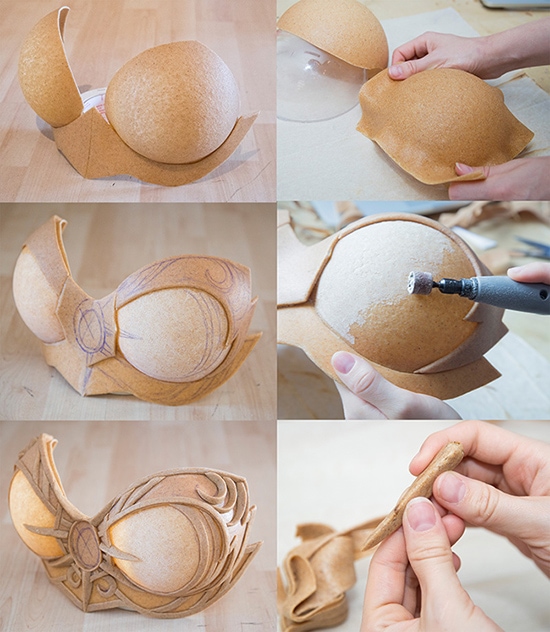 One of my Worbla tutorials!
In the end of 2010 I joined Facebook after people kept bugging me about it. Here I was able to upload my daily progress, but I didn't really want to spam my entire private profile. Also there were people on my friends list who had no idea about my weird hobby, so I created a separate fan page. Kind of like a hidden superhero alibi. "Fan page" – this had a weird sound, but it did what it was supposed to to. With just a few likes at the beginning I uploaded all my stuff, wrote about my work and chatted with people about different techniques and materials. My page became a great place to share different ideas with others and over the time my following slowly became bigger.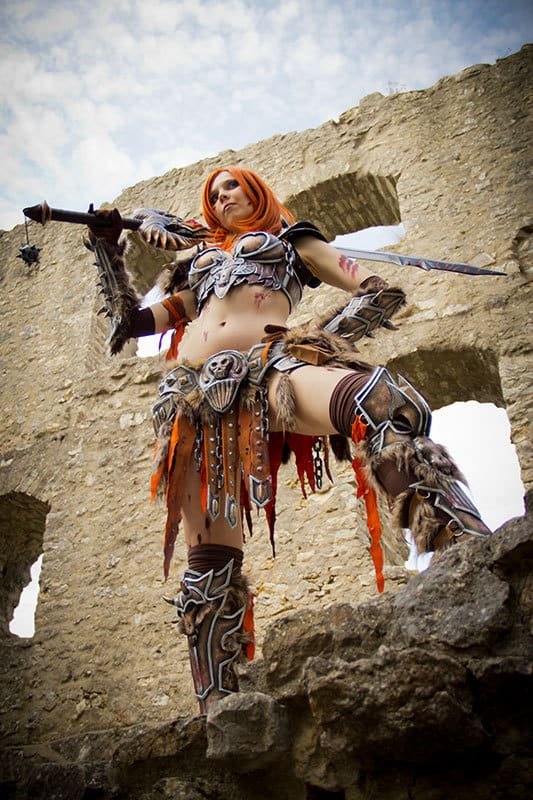 I guess my Barbarian is one of my most well known costumes.
During my "hardcore" crafting time I was a student (first electrical engineering, which I failed, haha – then technical journalism), blessed with lazy professors who often simply cancelled their lectures. I didn't really learn much during my time at university, but as long as I had free time to create my costumes, I did not really cared that much. University is free in Germany, so I enjoyed being able to push the start of my serious life with a job and stuff back for a few years. I kept crafting and was even able to save some money to fly to the US for a few conventions. I remember that once a girl recognized me out of costume at Dragon*Con in 2011. "You're that girl from Youtube, right? I watch your videos!" This was super strange and I was so surprised, that it was very difficult for me not to act really weird while she took a photo with me.
2012 and 2013 were great years and my university reached it's peek of cancelled lectures. Though it was also time to write my final dissertation and pass my last exams. I was super scared since this meant, that I finally had to get a full time job and give up all my free time (which is what you normally do in Germany when you get your degree). I wasn't ready for the serious life, but I still started writing some applications. While it wasn't that hard to find a job, I also surprisingly got another opportunity. The companies Intel and Newegg contacted me and asked me to create two costumes for their booth at Blizzcon in 2013. Sadly the event was already so close, that it was impossible to follow my new full time job and finish the costumes in time. Additionally the very first convention overseas, Montreal Comic Con, wanted to invite me as a guest. But with my tight work schedule I wouldn't be able to go. I had to make a difficult decision. It's a cultural life goal here in Germany to get a steady job, create a family, maybe build a house and plant a tree. All my previous life my parents, my teachers even some of my friends told me that my dreams are silly, but I never wanted to believe them. Benni, who stayed by my side since my very first costume (Yes, he fell in love with me being dressed as Saiyaman), always believed in me and he still did. Additionally he had a well paying job and promised me his support, no matter what happens.
I was still not sure, was scared and had no idea what would happen, but I wiped away my tears, went to my new boss (after only 8 days of starting the job) and quit my job. I had made my decision, went straight home and started the same day working on both of the commissions for Intel. It was still stressful, but despite of having to work until 6pm, Benni helped me every day to paint every single armor piece for the costumes. Two weeks later – and yes, I finished two full armor sets in two weeks, hohoho! – we both flew to Blizzcon, handed our work to the excited customer and had a great time at the con.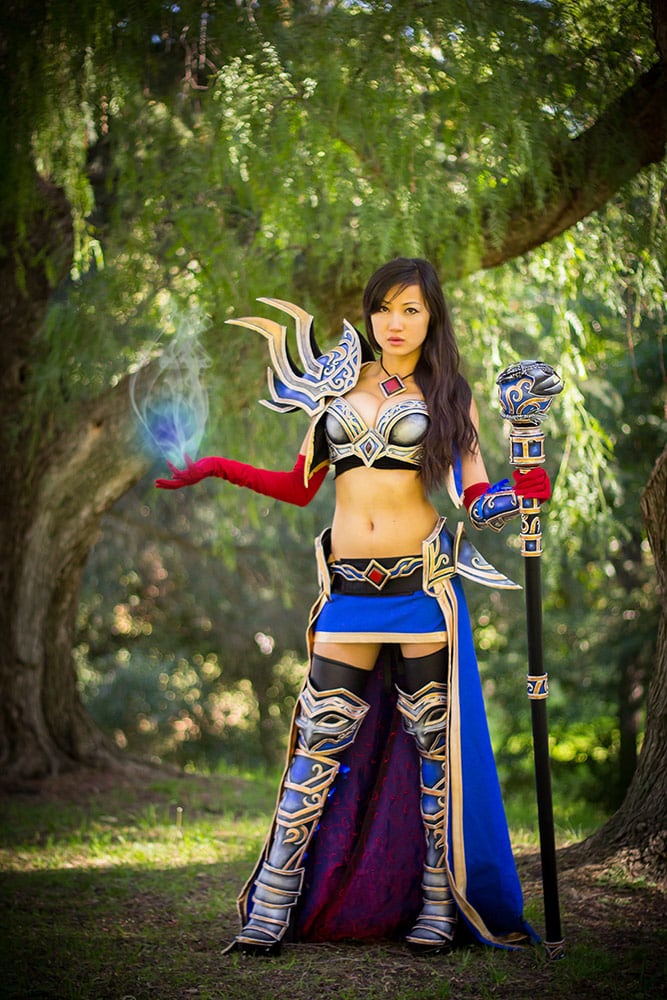 One of two commissioned costumes from Intel/Newegg worn by the amazing Joanne Chiang
Now since the job was still gone, I was unemployed. I didn't had any other commissions lined up or had any other plans. My future was completely blank and this was scary, especially for a German! Luckily, Los Angles is an amazing place to get new ideas. Over the time I made tons of friends there and one of them was Bill Doran from Punished Props. He liked my tutorials as well, though he was also one of the people who didn't like the fact that they were spread all over the internet – videos on Youtube, progress on Facebook, tutorials and cosplay.com and a few blog entries on my website. "Why don't you make a book with all your tutorials inside?" He wasn't the first one who suggested that, but he was self employed, had a book out already and finally gave me that final push to do it. I didn't know what to expect from it, but honestly I was just excited to have a new link for everybody who would dare to ask me things again, ha ha!
So, we flew home, Benni went to work again and I started writing. Following my goal I gathered old progress pictures and created a few new tutorials. I was done after only three days and Benni even took a few days off to finish the layout in three additional days as well. After I got it back from proofreaders (sorry about my grammar, guys!) The Book of Armor Making was set up in my store after one week of work. A new project was done, I was happy and still unemployed!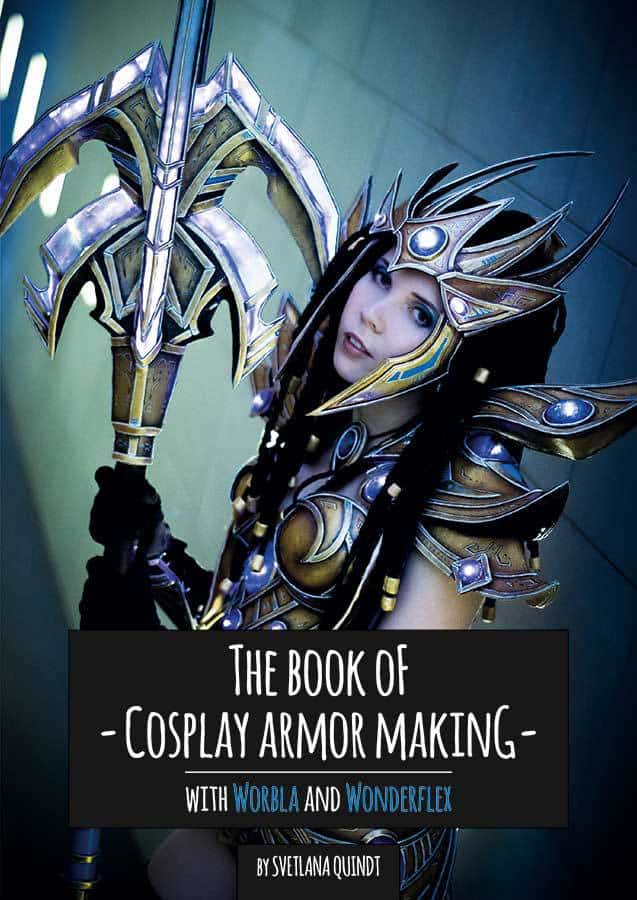 What followed then was just absolutely insane! It seemed that everybody shared my announcement post about the book, and I got 140.000 Tumblr notes!!! People made videos about it on Youtube and my shop went crazy. I was speechless! A few days later I finally realized, what had happened. My book was featured all over the internet and my future was finally not a blank anymore. It wasn't longer a silly dream to make a living from my weird hobby and there was no reason to write new applications ever again. I still had no idea how my future would look like or what I would do in 10 years, but I didn't care anymore. I knew it all would work out somehow if I just kept on doing what I do.
A few months later Benni also quit his job as well. Since we first met in 2003 he was always by my side, always supported me in any way he could. He carried my stuff at conventions, took photos of me in costume, brushed my wigs, calmed me down in tearful nights and always helped me to finish my costumes in time with his stunning paint jobs. He already spent all his free time to support me and my work (basically working two jobs), so it was the right decision for him. We made enough money to support both of us and it made more sense to focus all of his time on our cosplay projects. Aside of still doing most of the paint jobs of my costumes and props now, he is also in charge of the layout, editing and shipping of my books, answering emails and messages, handling my website, my shop, taxes and much more. All just so that I can keep on crafting. I honestly have no idea how to manage all that without him!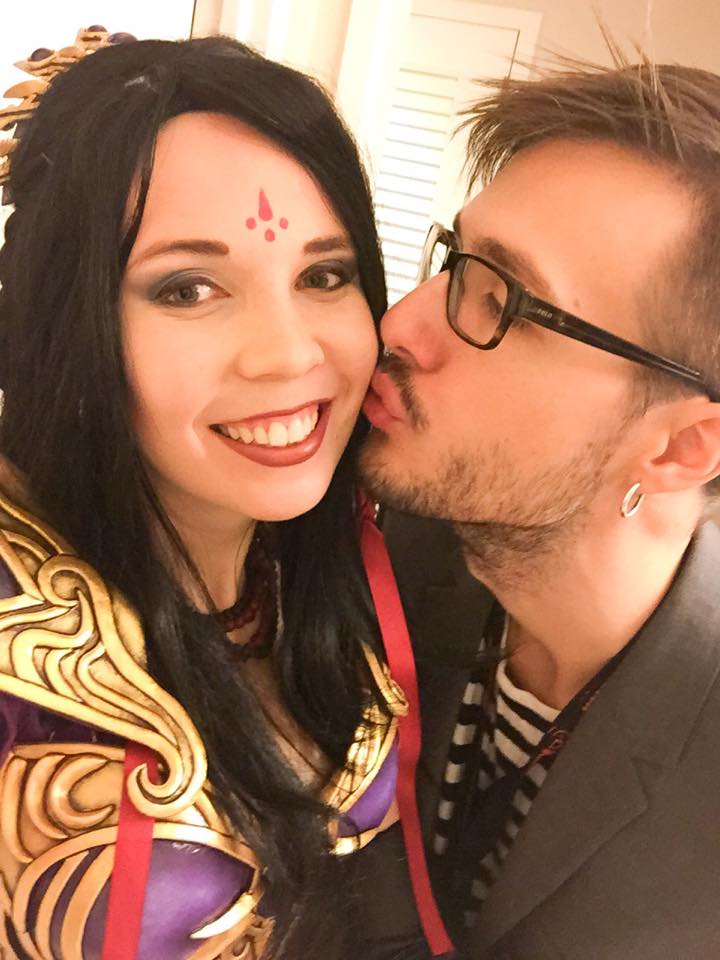 Just a few days ago we released our sixth book about Advanced Prop Making and I already have several new titles planned for the next few years. My super awesome friend Bill is a busy writer as well, so check out this amazing Foamsmith Trilogy! While Benni and I now make our main income from books, I also still like to accept a few commissions for fun like Symmetra, who I built for Blizzard this year for GamesCom.
Benni and I now don't worry about the future anymore and instead enjoy the amazing time we have now. With countless running projects at the same time we often work for over 15 hours a day with barely any sleep at night. Though we also travel together all over the world (this year we've been to Switzerland, England, Ireland, Canada, the US, New Zealand and Barbados already!) and enjoy to share every day with each other. We do what we want, wake up when we want and go where we want. We're working now far more than we would do at a normal day job, but we love every single second of it and never regret our decision!
So… never stop dreaming and believe in yourself, guys!