With this year's Gamescom one of my biggest dreams came true: A collaboration with Blizzard Entertainment!
For over 10 years I've already brought countless characters from the Blizzard universe too life, from Druids, to Warriors and Paladins from World of Warcraft, Barbarians and Wizards from Diablo and also here and there some stuff from Starcraft. Just check out my portfolio! So to officially create a costume for my favorite company was something I always hoped. Now for Gamescom 2015 they asked me to dress up as a character from their latest franchise Overwatch. Mercy was super interesting, but I knew it wouldn't be possible to wear her for three days in the crazy crowds of Gamescom. So I chose Symmetra – less armor, comfy enough for three days and still designed with cool props and a cybernetic arm.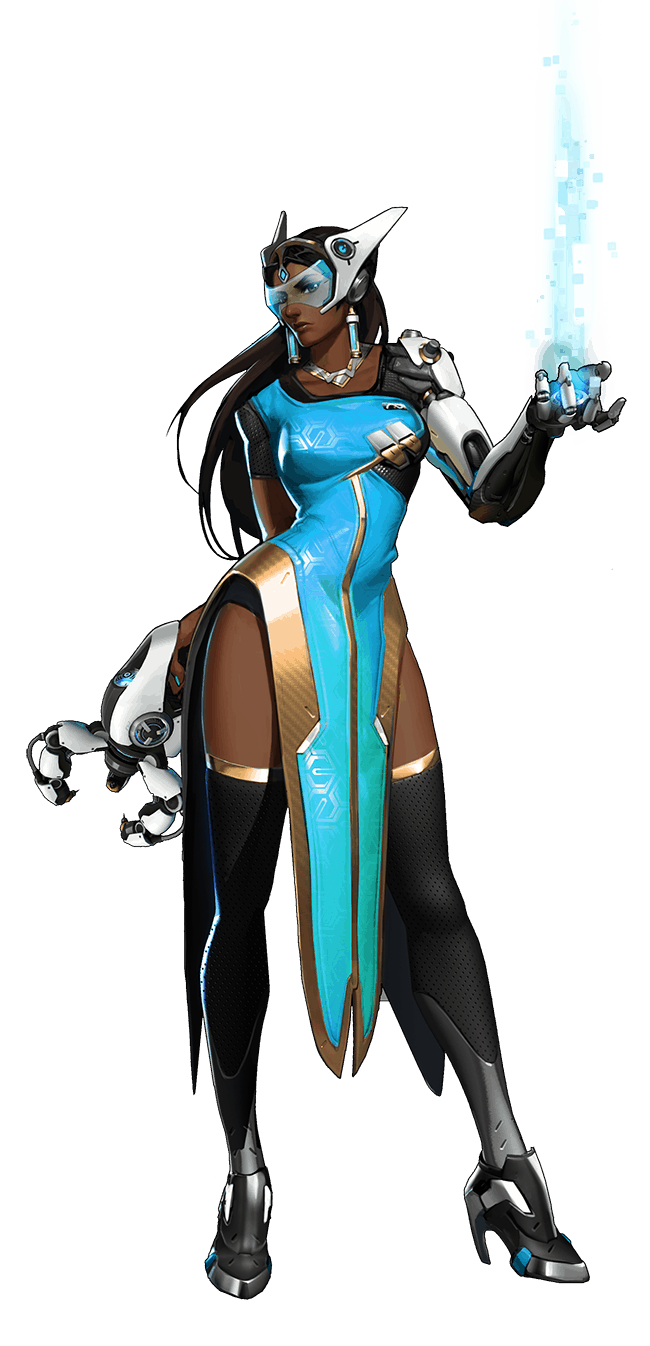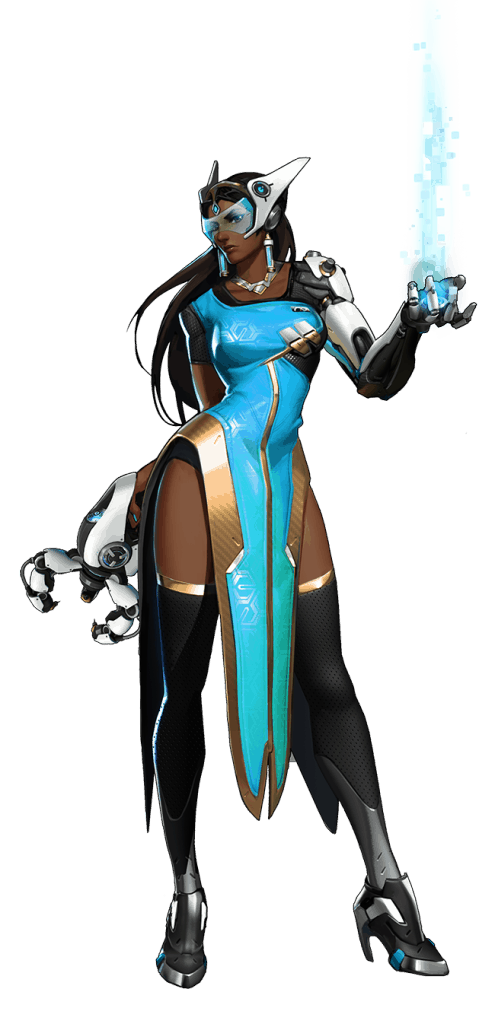 I usually like to start with the hardest part of a costume and the cybernetic arm looked quite like a challenge. Since I'm working a lot with Worbla I already had my material of choice, but I was not sure how the result would turn out. So to get the patterns, first I wrapped my arm in tape – or better Benni did it for me. To draw on the lines and shapes I wanted I did the same with his arm before, so he was able to use my drawing as a reference.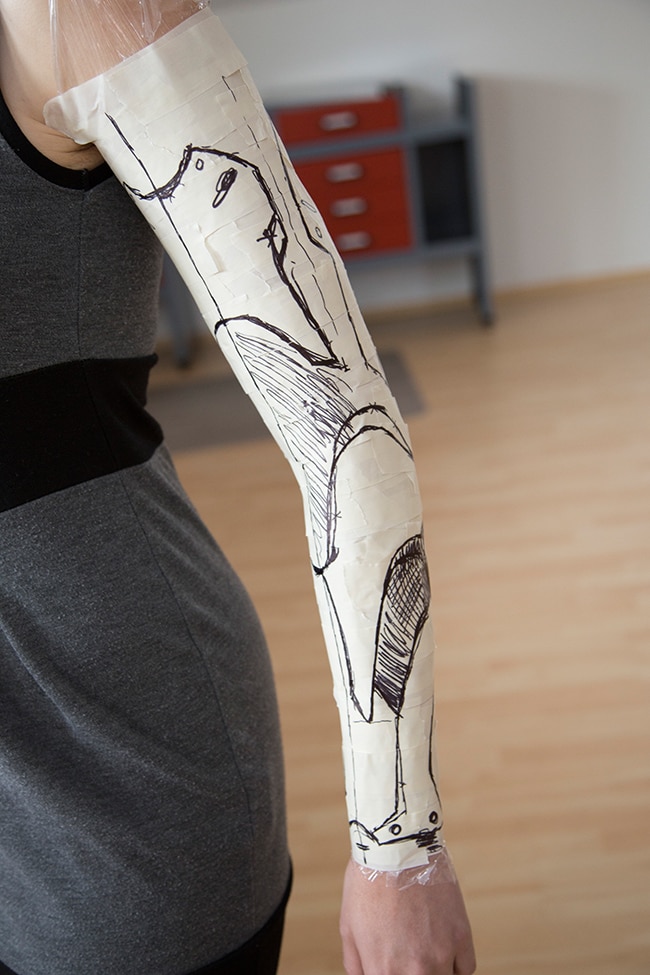 This build gave me the perfect patterns for Symmetra's cybernetic arm.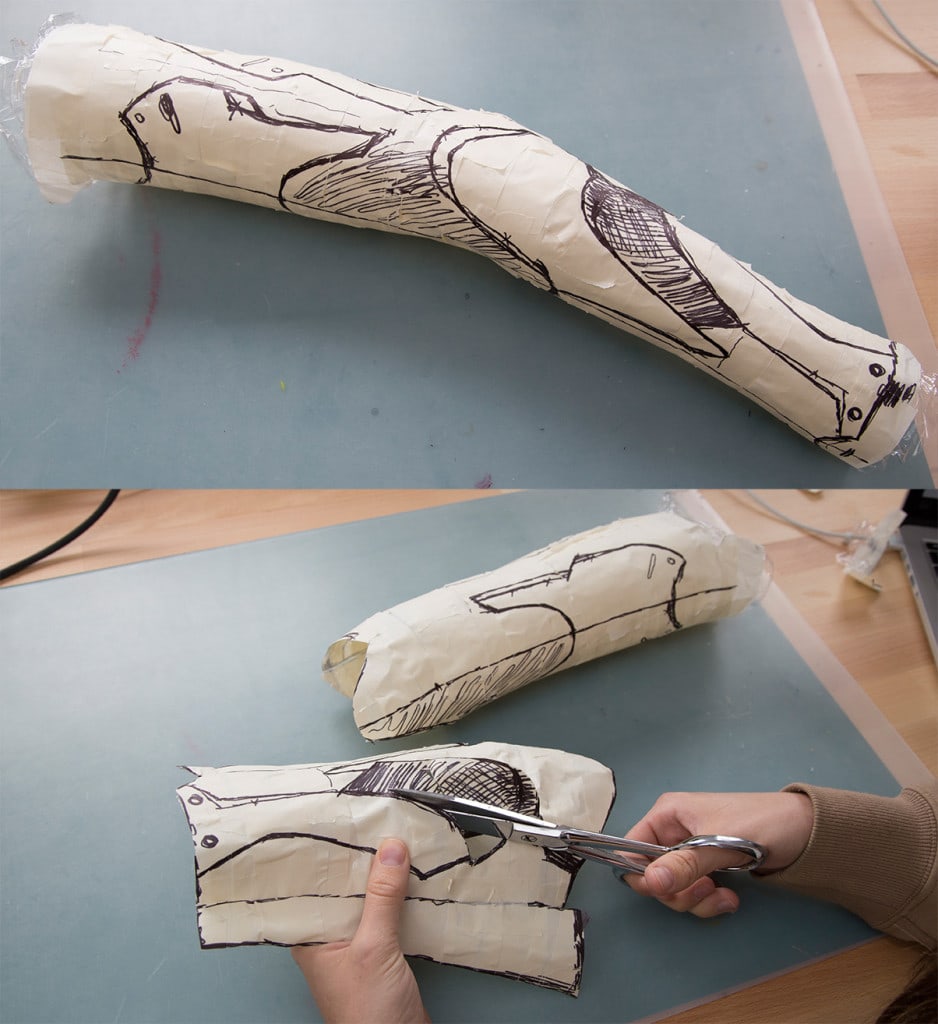 Then I traced the patterns to 1mm thin craft foam and covered it from both sides with Worbla to give it more durability. For a nice, round shape each piece consisted out of two parts. To clean the edge I just filled the gap between with a thin stripe of Worbla and sanded the surface with my Dremel
 afterwards. Usually I apply several layers of wood glue, but the result wouldn't be clean enough for Symmetra. So I've covered all parts with spray primer this time and sanded so long that my whole workshop was covered in dust!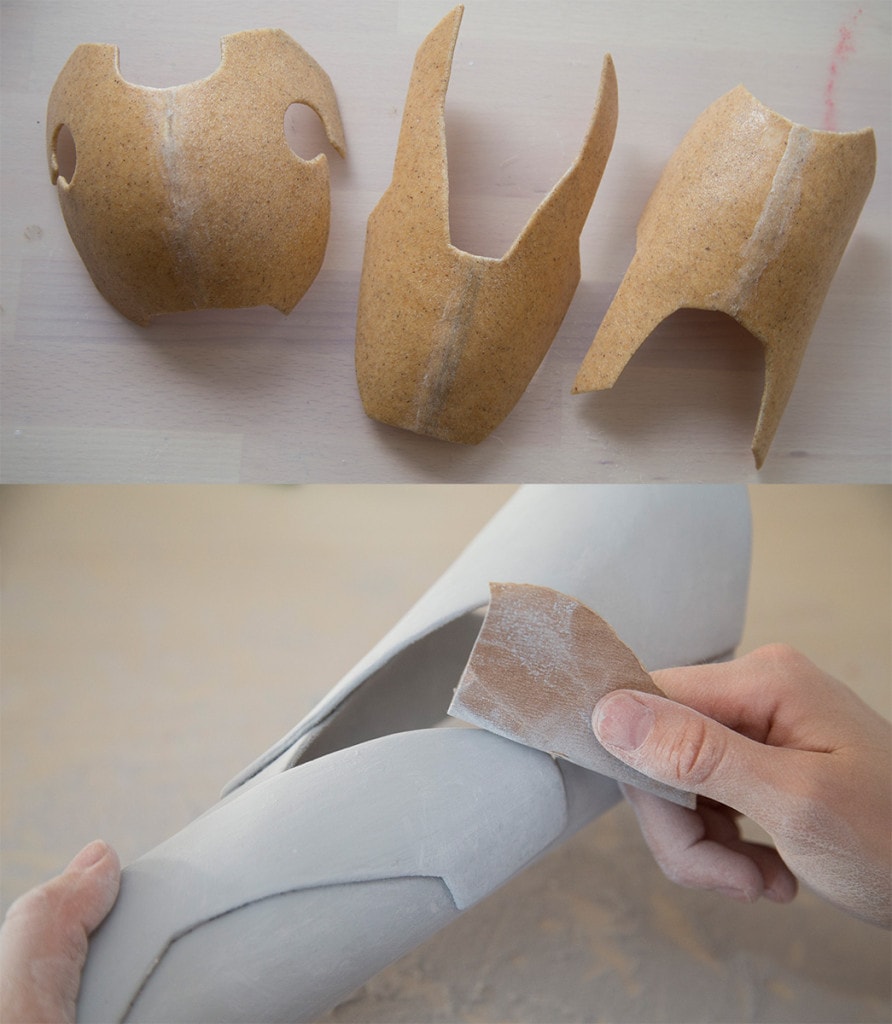 With one final coat of white automotive spray paint this was the result! All the shinyness! Looked good so far!
(If you're curious: The hand and finger parts were only two layers of Worbla without any craftfoam inside.)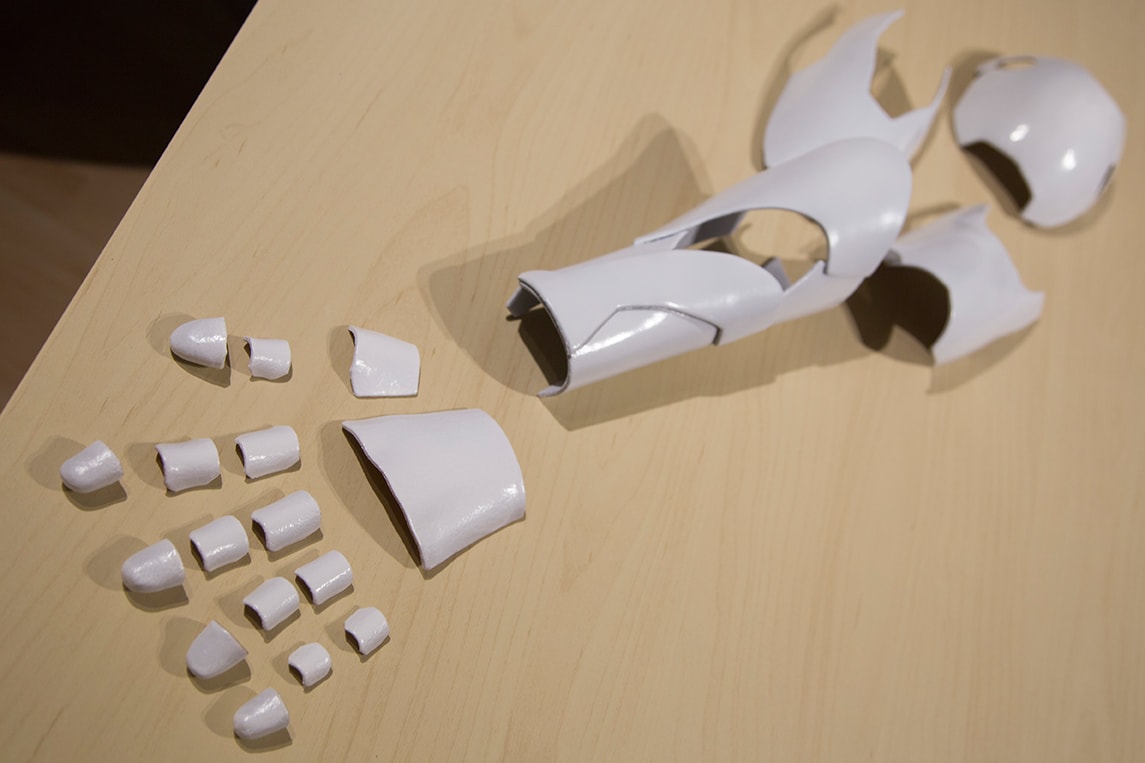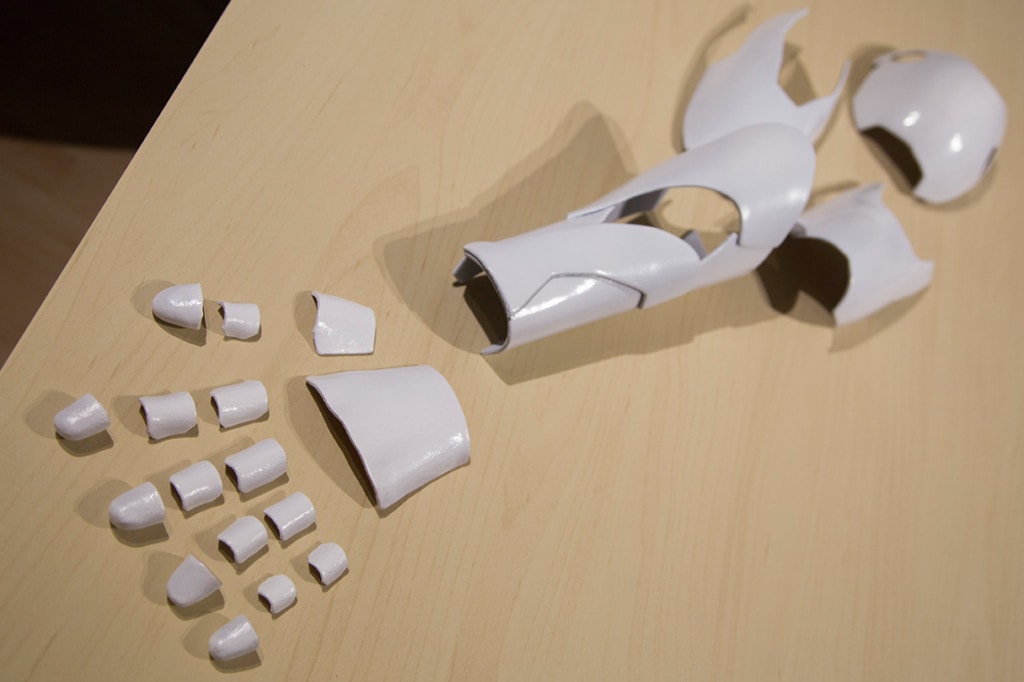 The next part was the gun! My projects are mostly very organic and have a medieval fantasy design, so this was the very first space gun I EVER made. Honestly I was not sure if my plan to build it would work it, but I just tried it. First step for me is always: Get some patterns. In this case I just printed out a screenshot from Blizzard's cosplay reference kit, cut it out and traced it on 10 mm thick EVA foam. You can simply cut the foam with a hobby knife.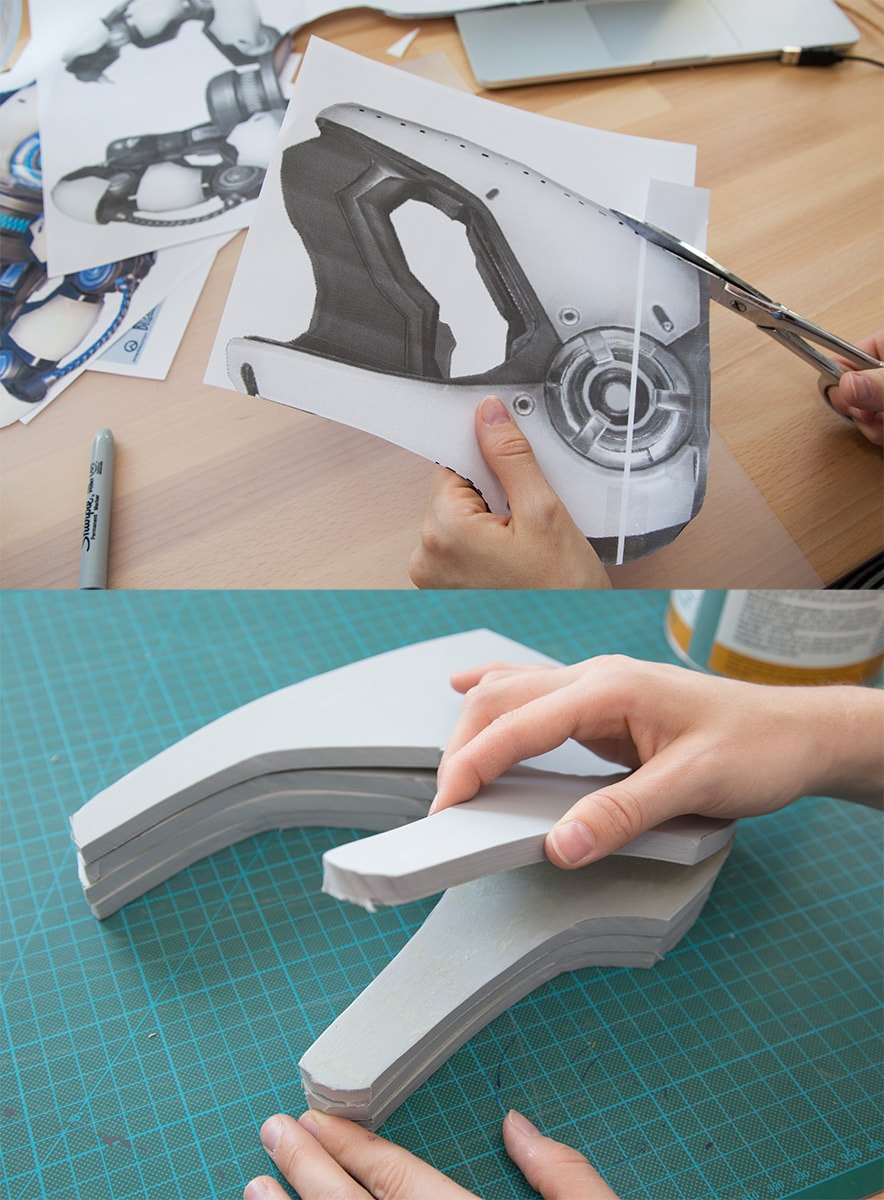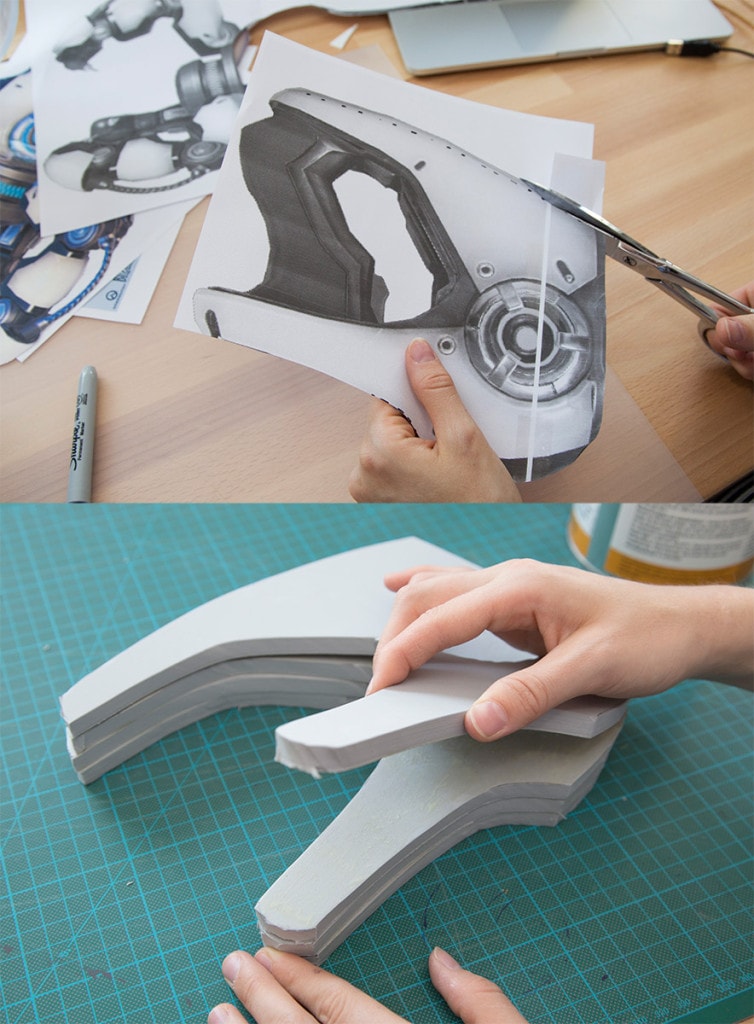 Afterwards I just glued all pieces together with contact cement, dremeled the edges and covered the foam in Worbla. The round hole in the middle is for the upcoming LED circuit by the way.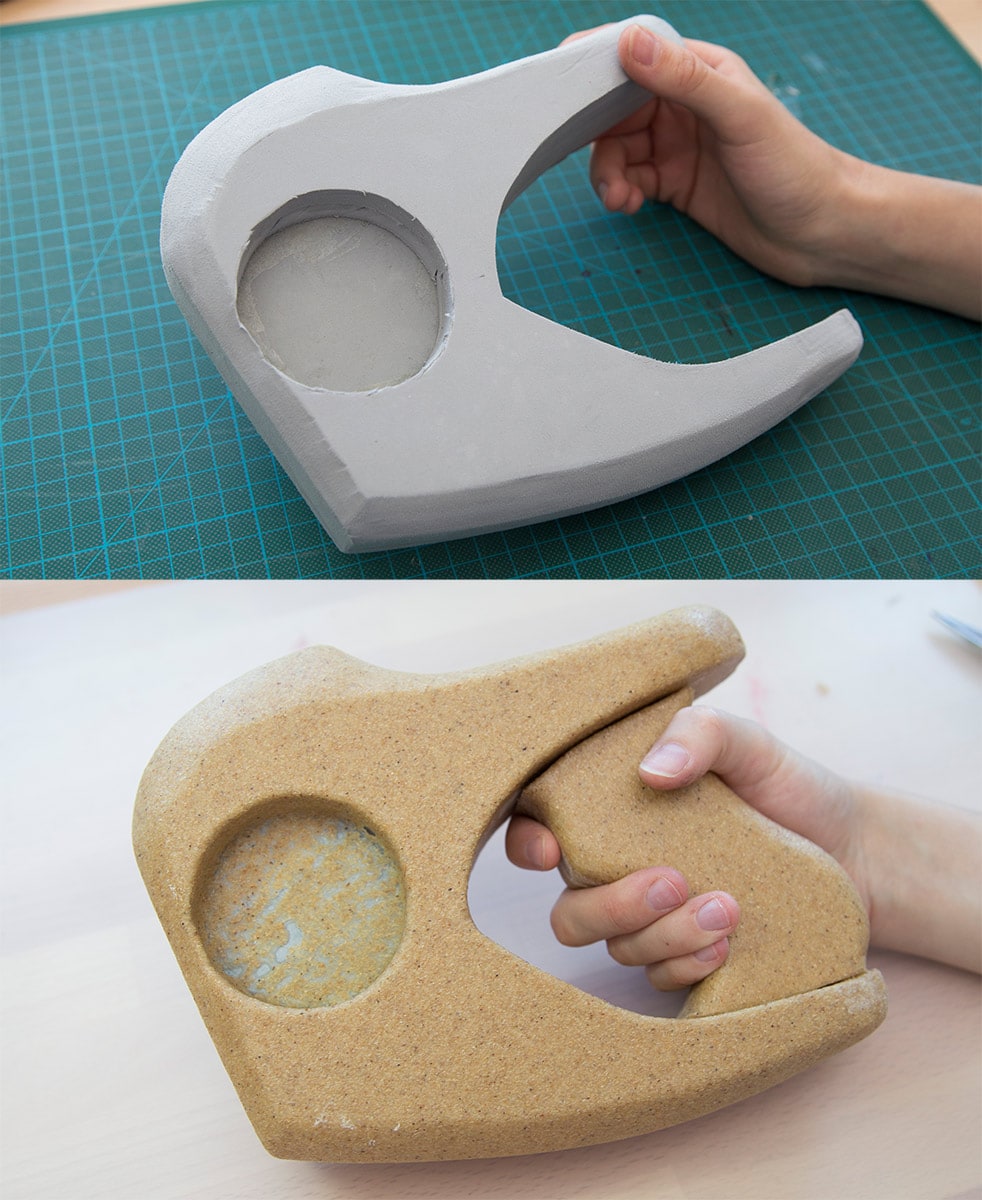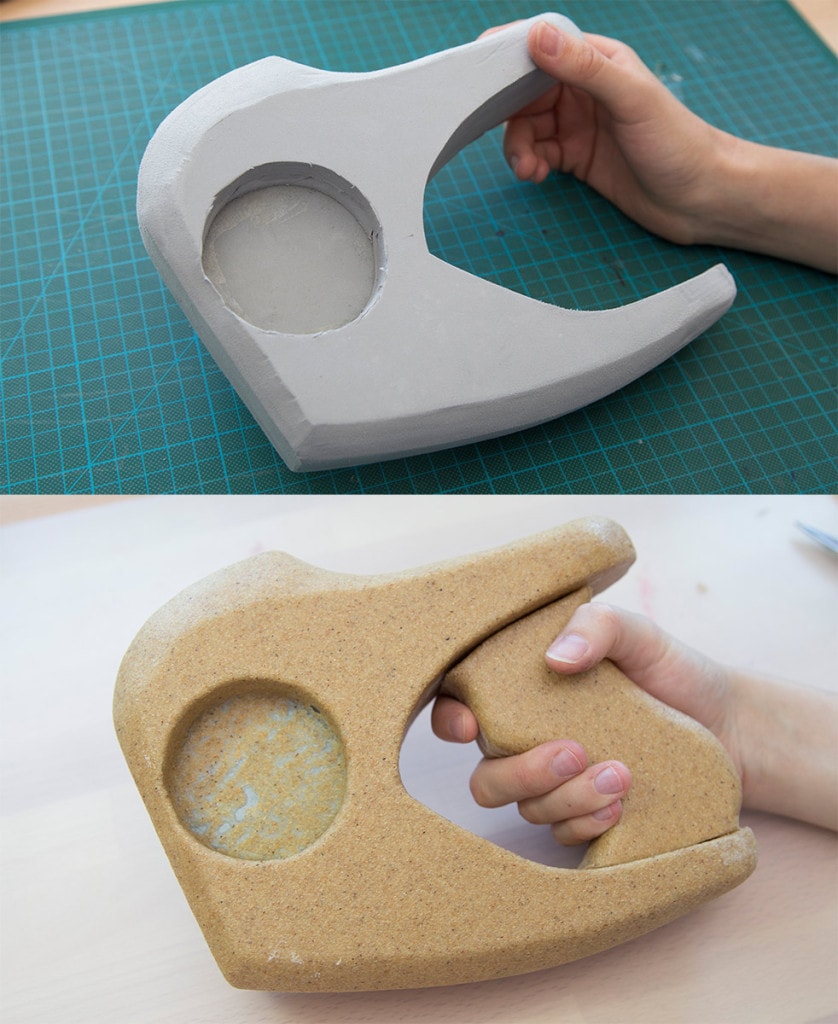 Well, and I did the same with all other pieces. Pretty simple, right?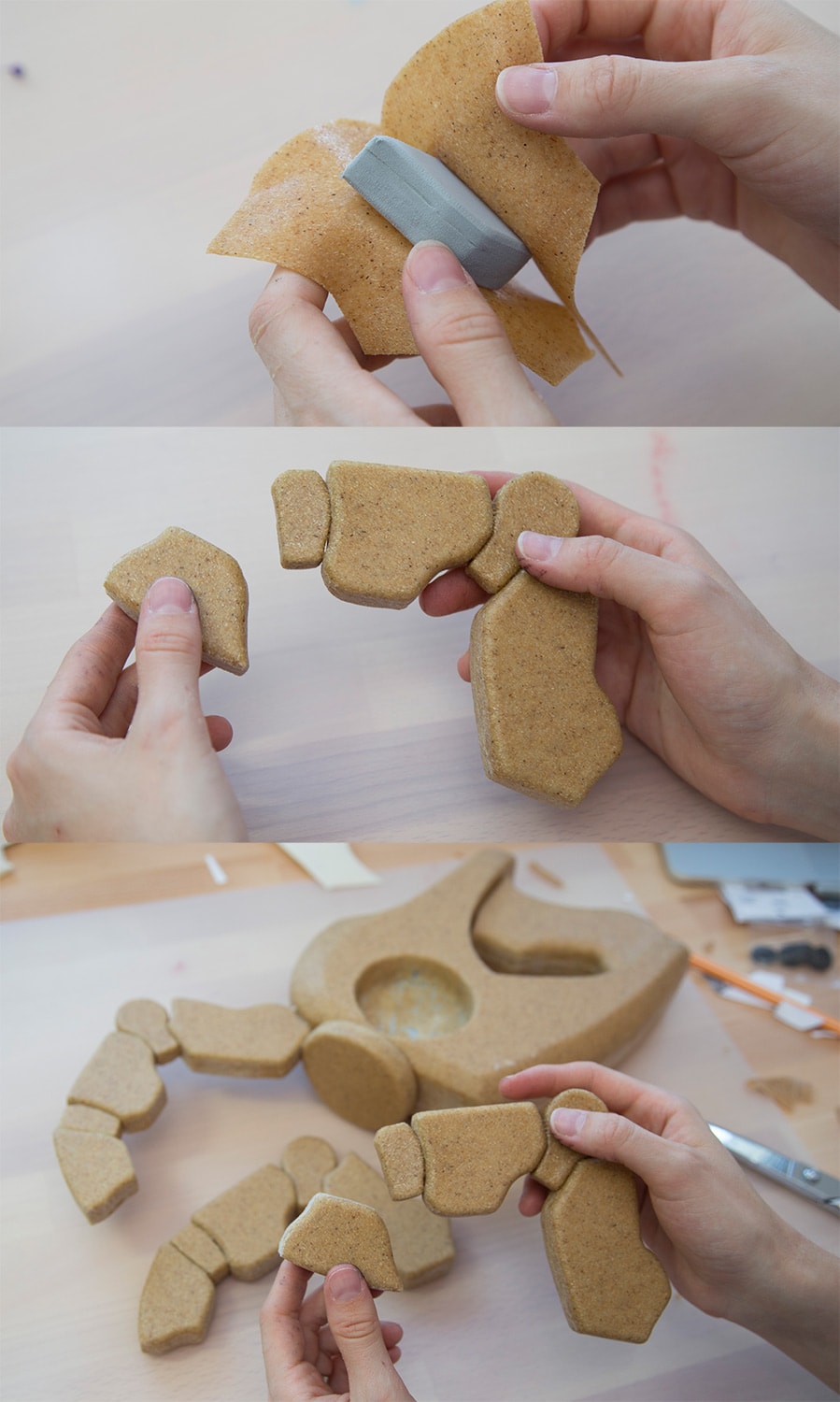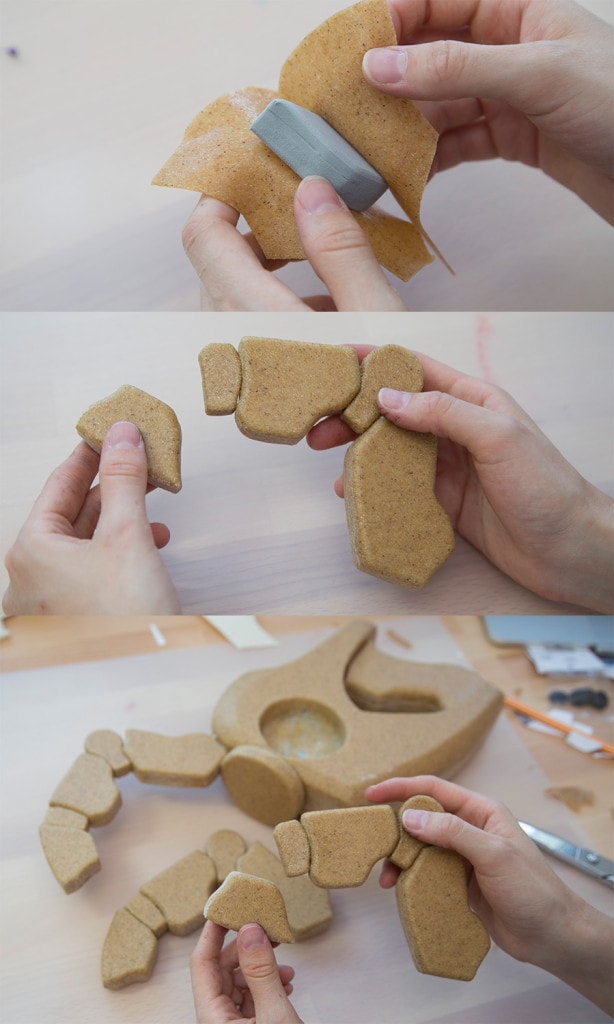 So, after I put everything together, Symmetra's Photon Projector looked like this…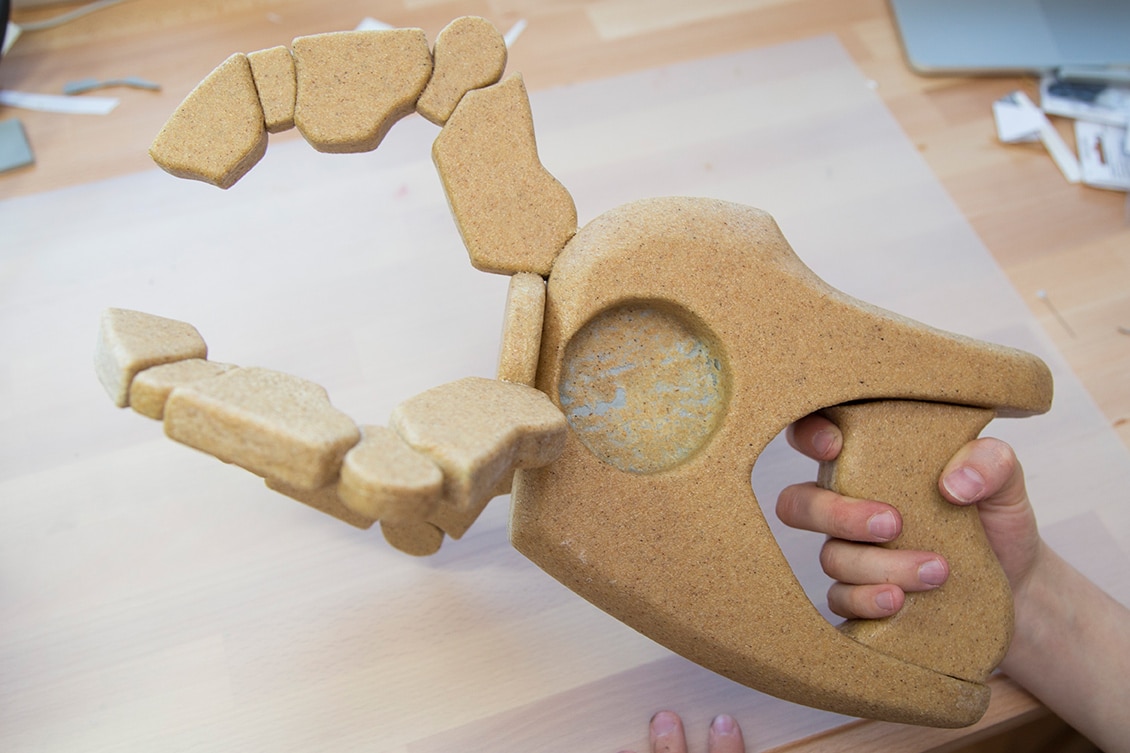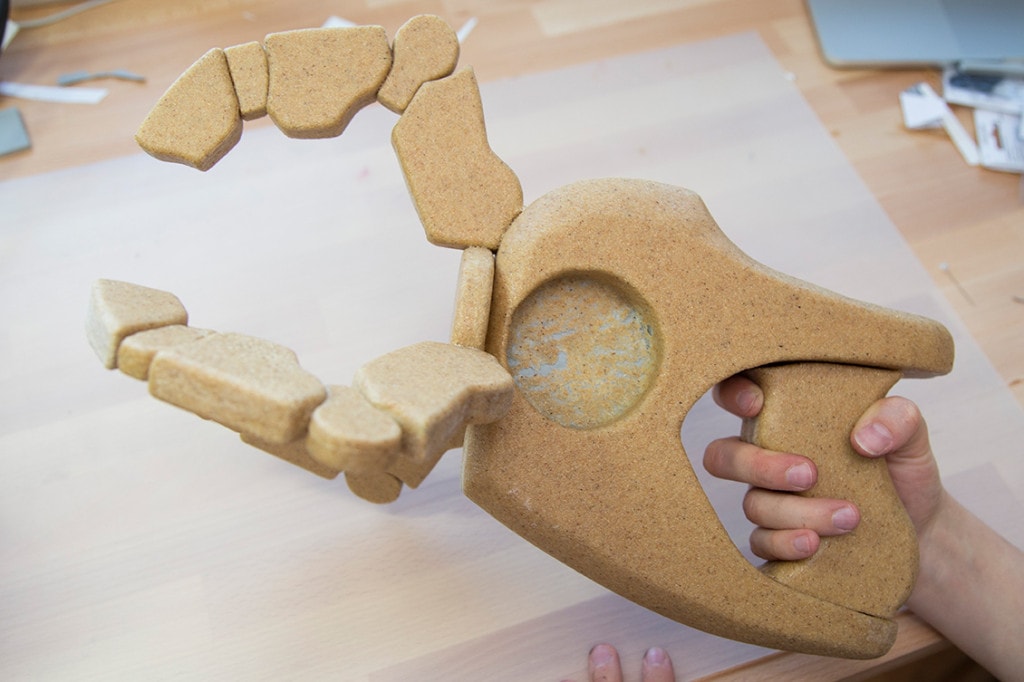 And with a few details later it was almost done! That was a jump, right? But in fact I've added just a few stripes here and there, some additional layers and pieces. Creating the base, finding the right size and shape, is the most difficult part of prop making. Once you've managed this challenge, adding details is just childsplay. Try it out and maybe my Prop Making Book can help you!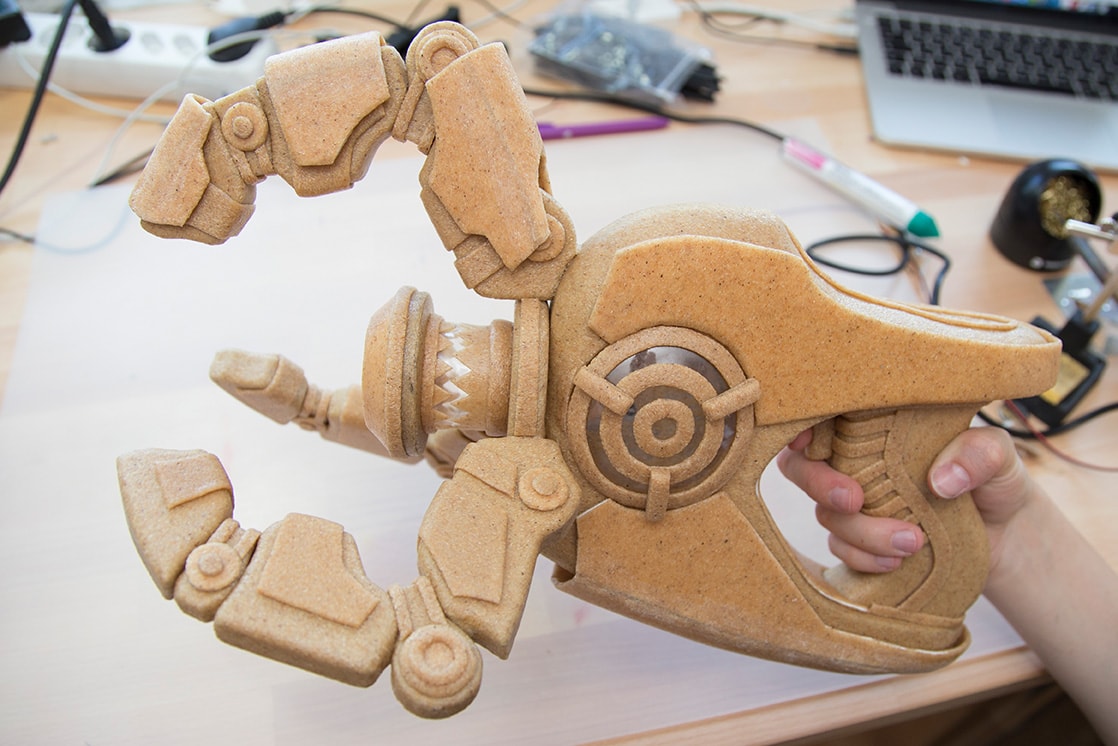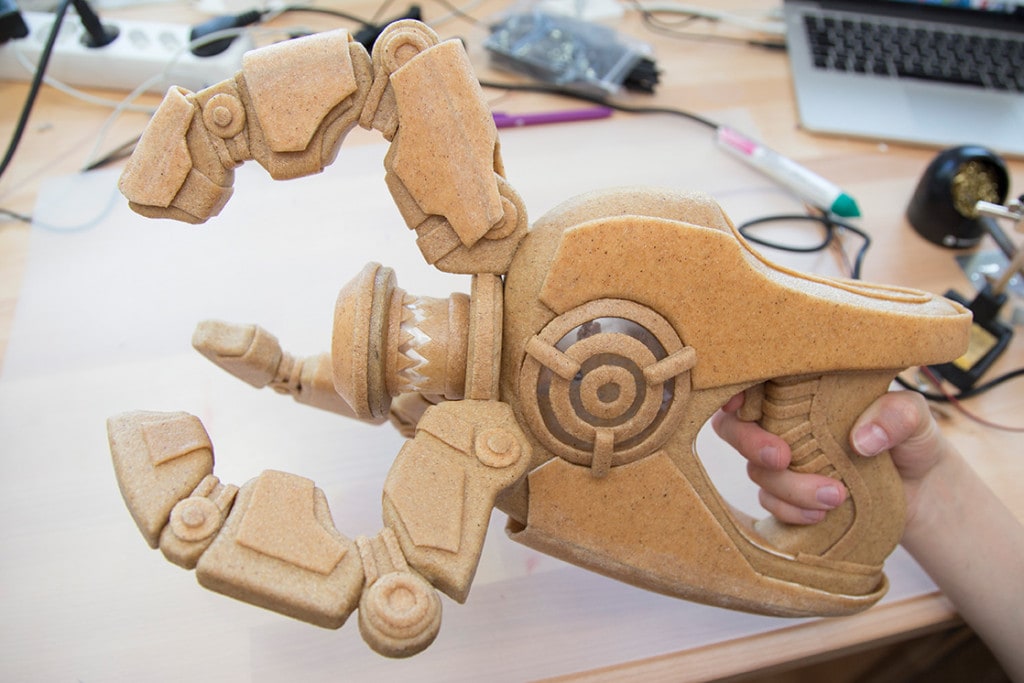 As you can see, I already added the lights. They were super professionally soldered and hot glued into the gun, but the result worked. In total I used 9 LEDs and ran it with a 9V battery which I hid at the bottom. Check out my LED Tutorial Book if you want to turn your costume into a Christmas tree as well! The round things right and left from the battery are actually magnets which were attached to the bottom plate thingy. That way it was easy to turn the circuit on and off and change the battery. If you're curious: I used packing material to diffuse the lights and Transpa Art (watch my video review here) for the transparent pieces.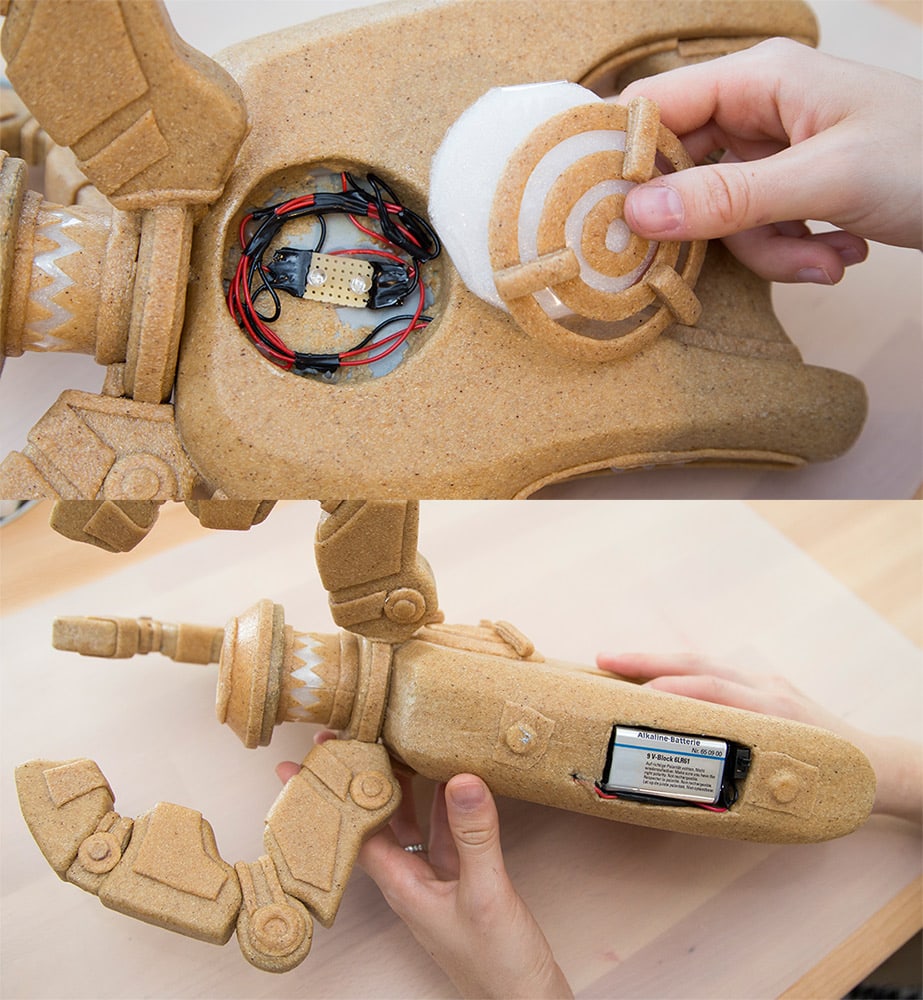 Now I just had to prime the whole piece. Since the design also had these white, shiny elements I primed and painted them separately just like the cybernetic arm before. Everything else got around 5 layers of wood glue.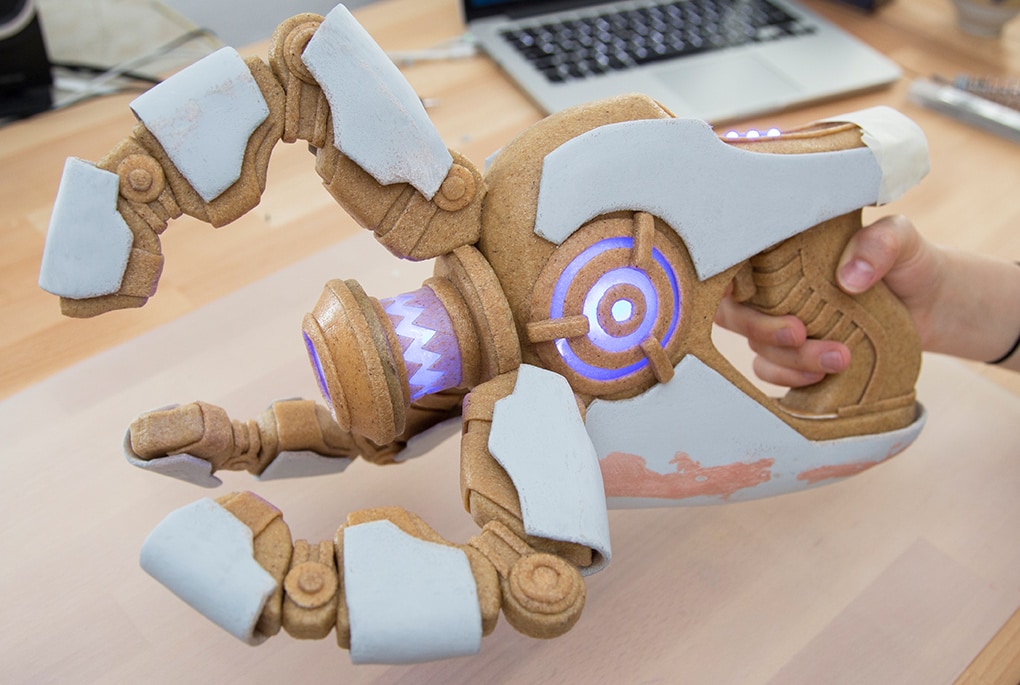 So… painting! As you can see, simple acrylics (I like Reeves
 and Amsterdam
 ones) applied by Benni. The basic color was dark grey with some highlights on top.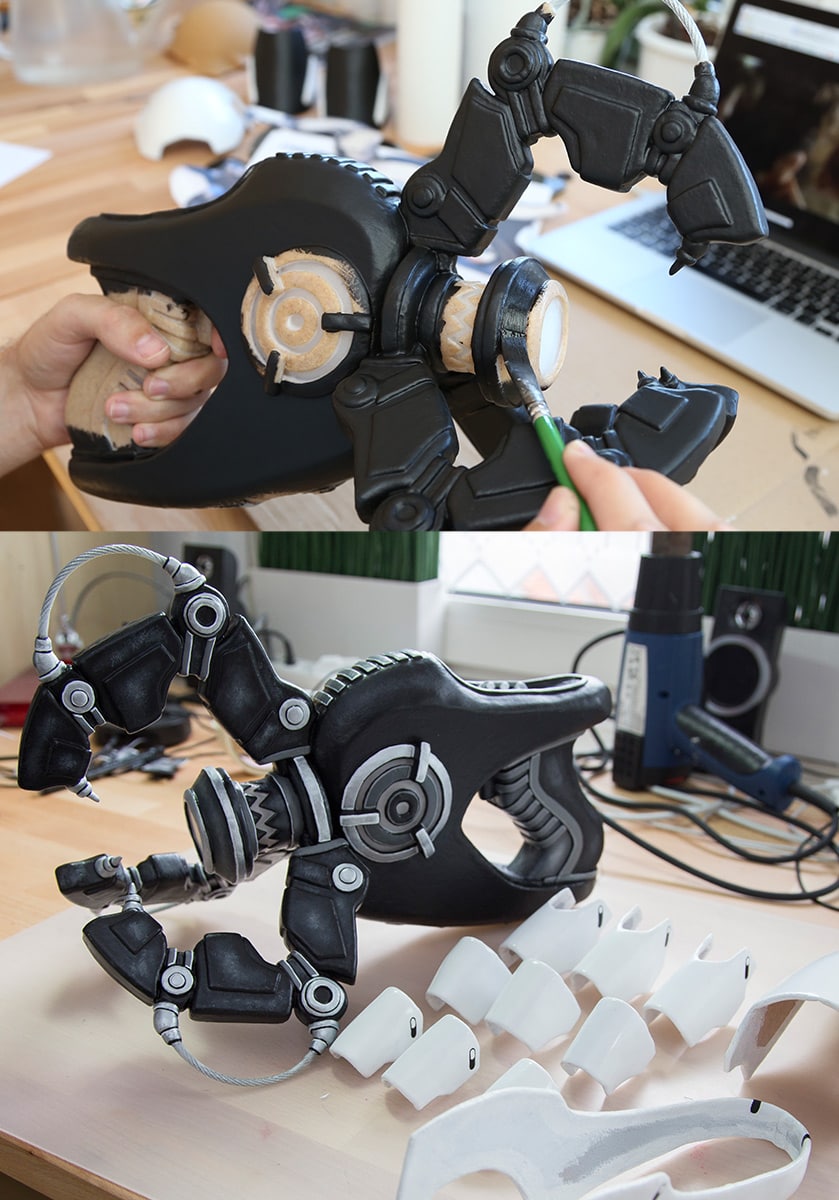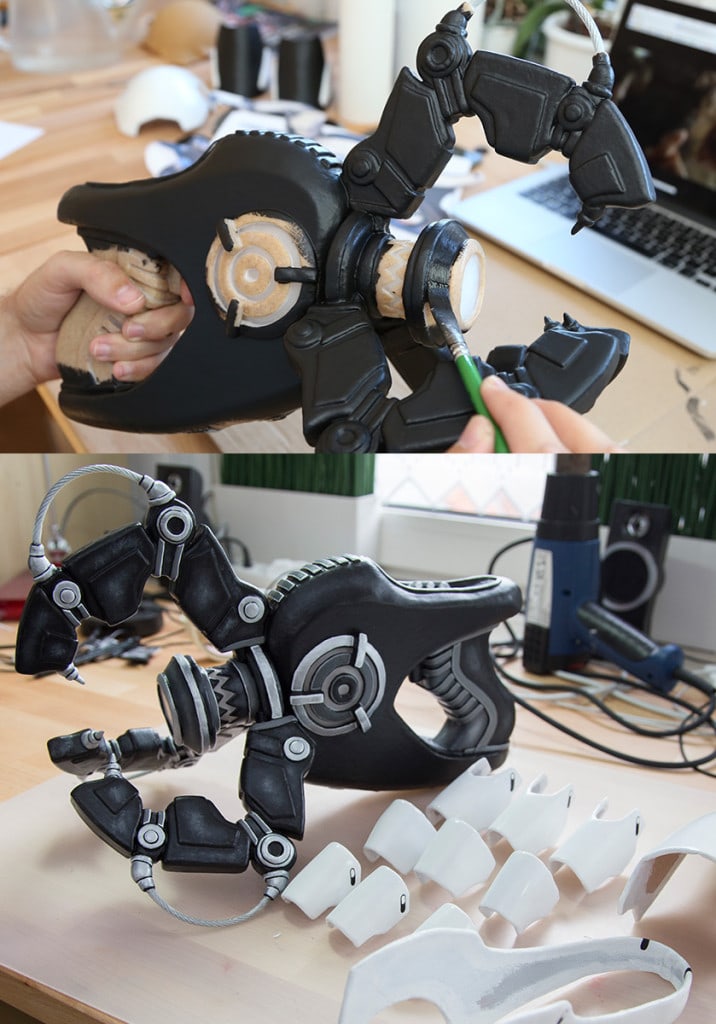 And Symmetra's Photon Projecter was done! Honestly I was worried, that EVA foam and Worbla would be too… rough for something technical like this design. Overall however I really loved how it turned out. Plus: It took me only two days to bring everything together! I doubt I would be able to do this faster if I would use wood, 3D printing or even a laser cutter!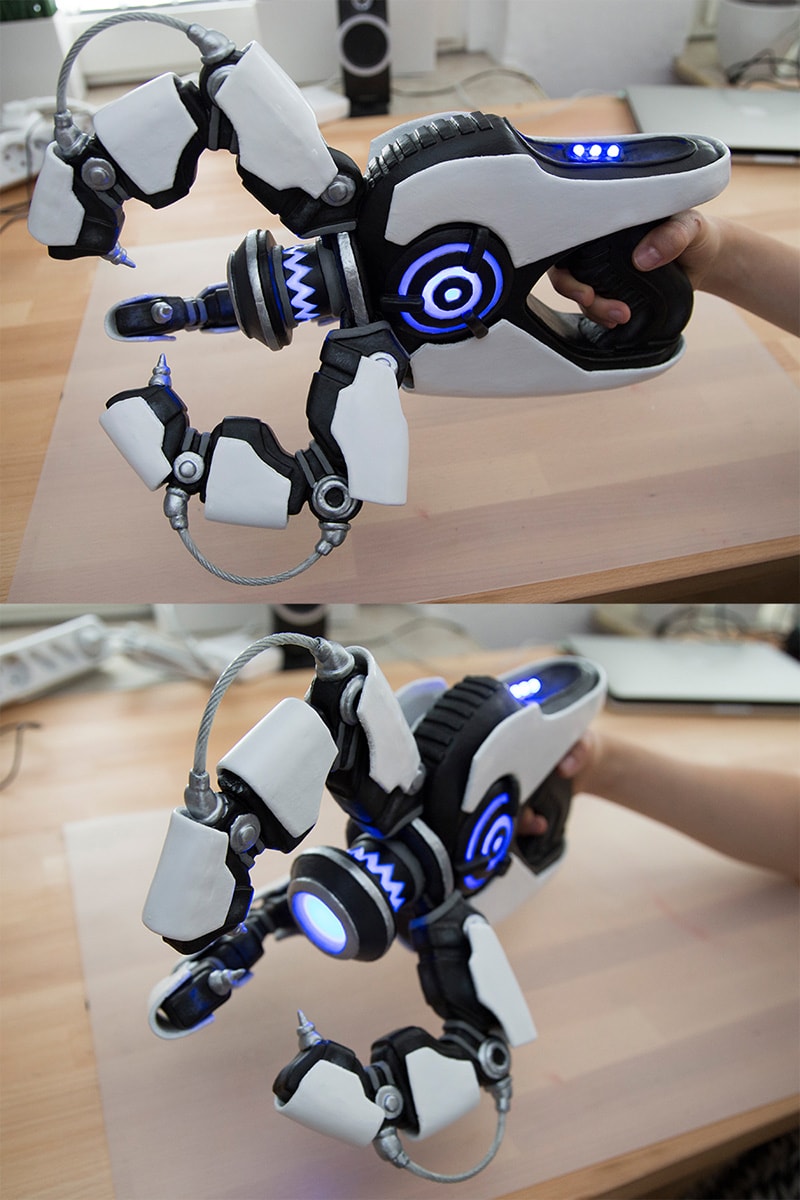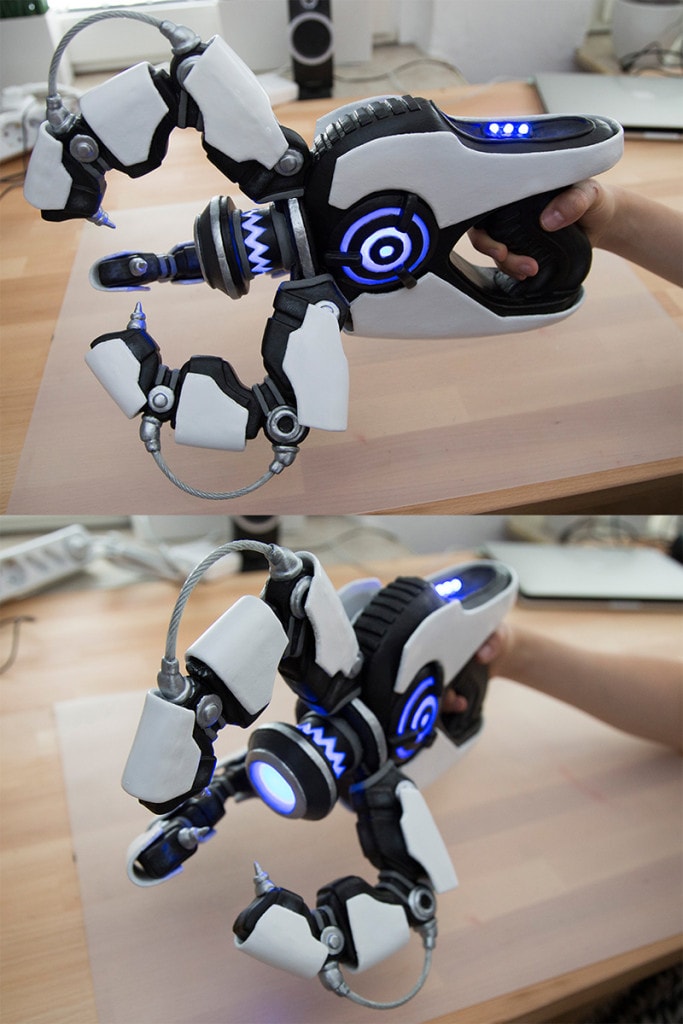 And while I took plenty of photos as long as I have enough time for a project, it get's hard to keep the camera in mind at 3am in the morning when time is running out. So sadly I don't have as much documentation as I wish for the other parts of the costume. But you surely already know the drill, right?
The to get the basic patterns of my helmet I simply used my Armor Pattern Collection. The glowing earrings are actually plexiglas pipes filled with packing material and an LED at one end. The wiring inside the helmet was again super professional, but it did the job. In total I used 9 LEDs. The visor is actually from some safety glasses, ha ha!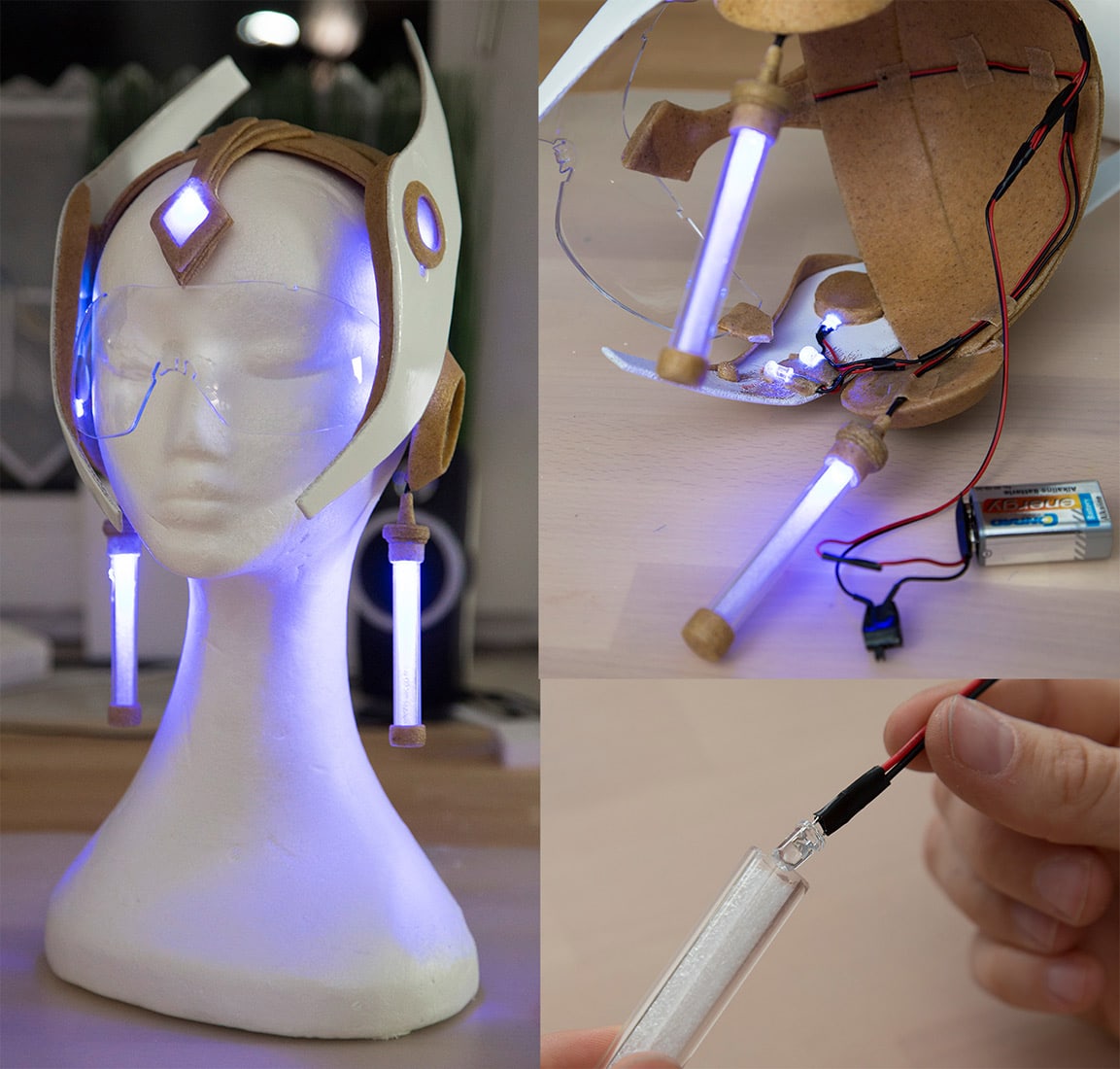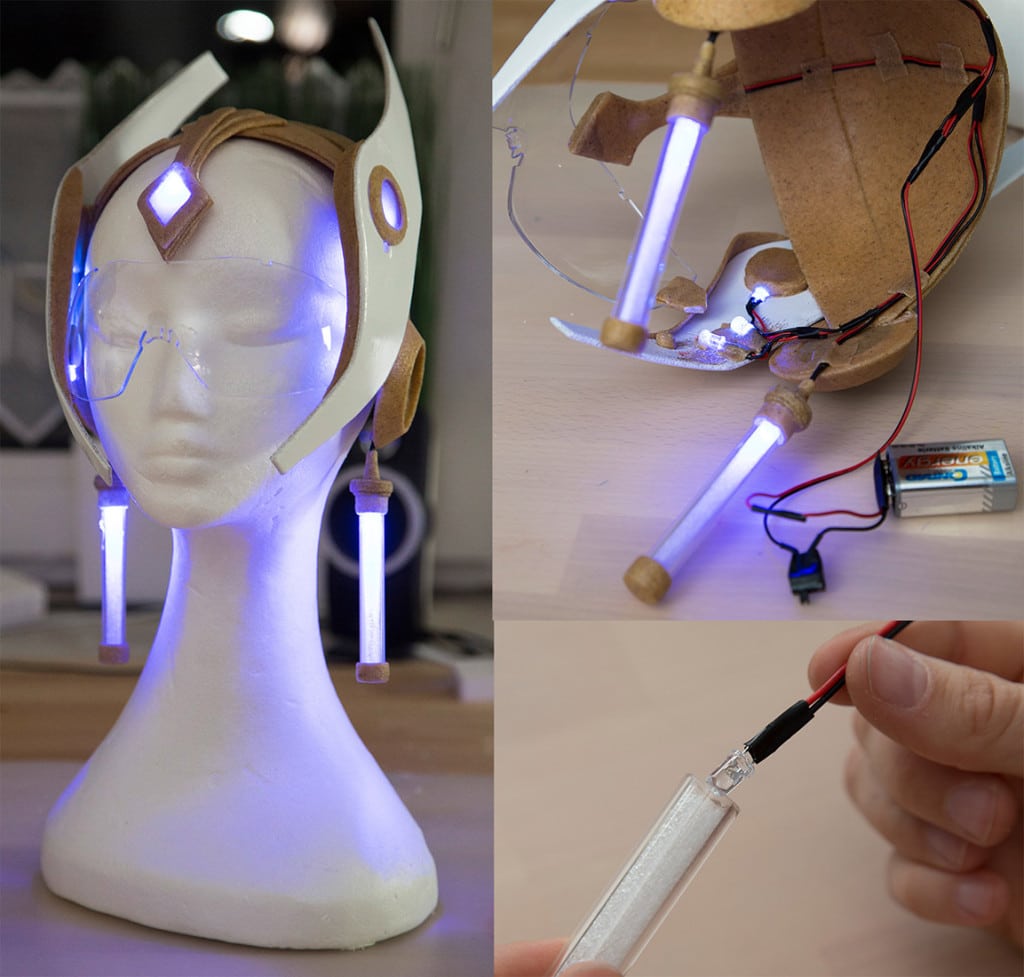 And here is the final paint job, done by my super helpful husband Benni. Again the white parts were primed and painted separately.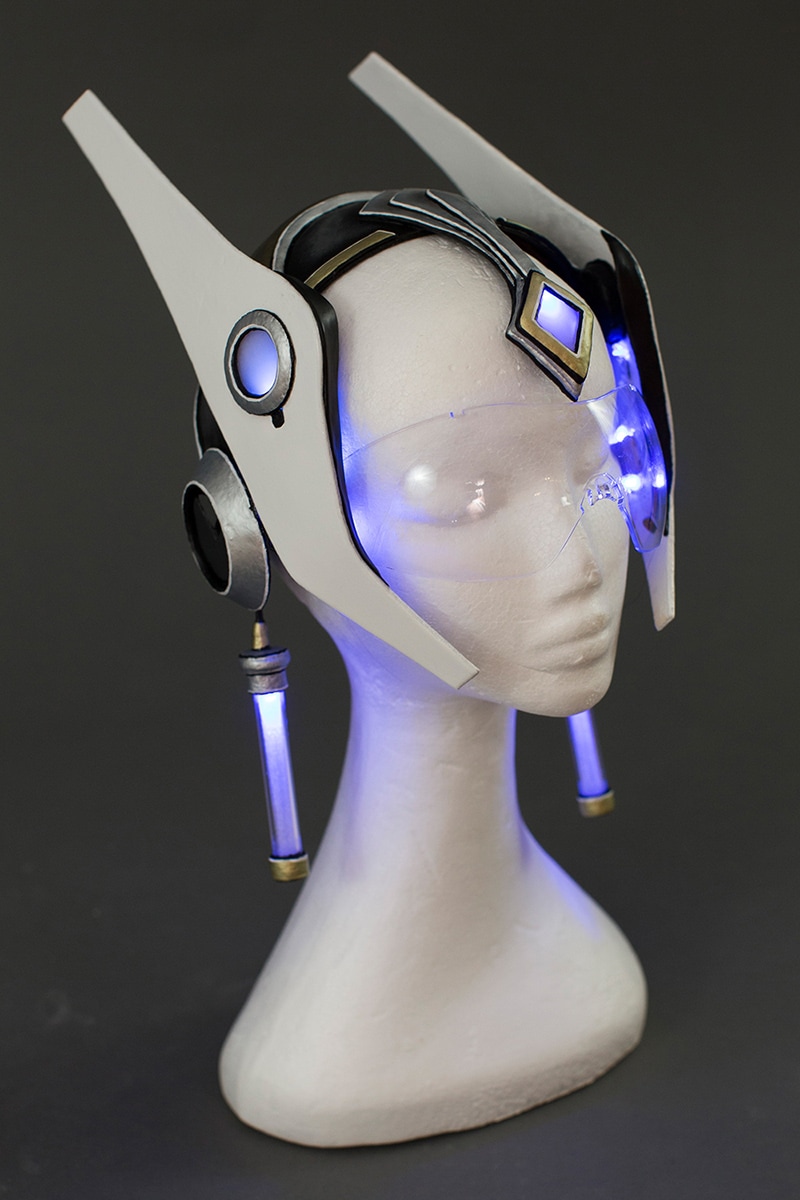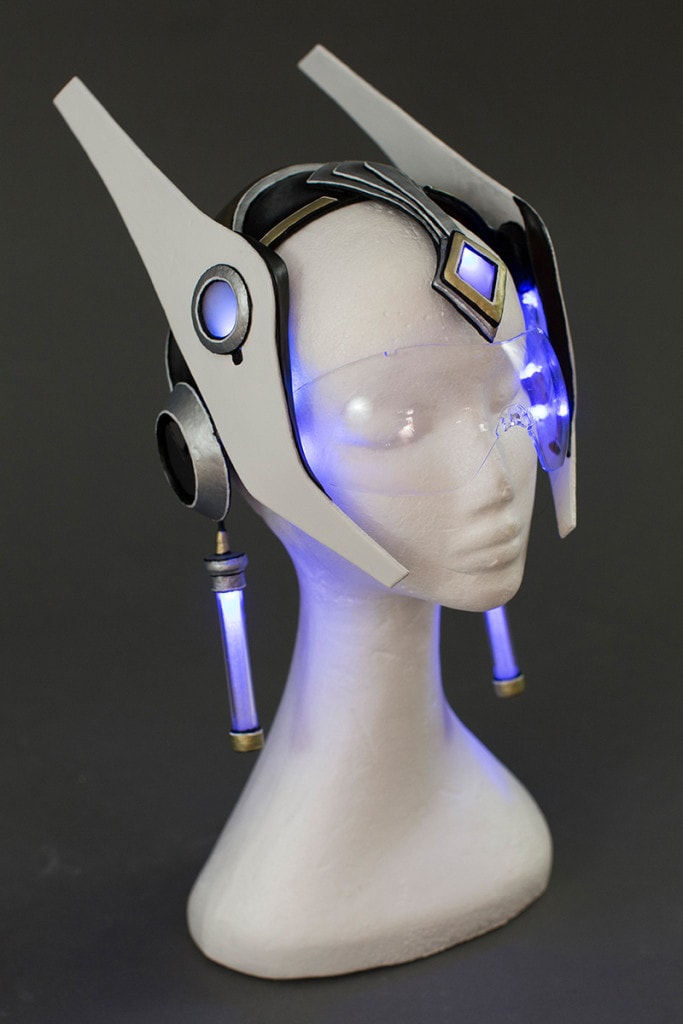 Ah, and shoes, right! For her shoes I sewed a boot cover out of a stretchy, leather looking fabric and added pieces of Worbla on top. In fact I have only two pair of shoes for all of my costumes: This femine black ones with heels, and a pair of brown hiking boots which I use for costumes like my Barbarian or Warrior. This saves not only money, but also space in my costume suitcase!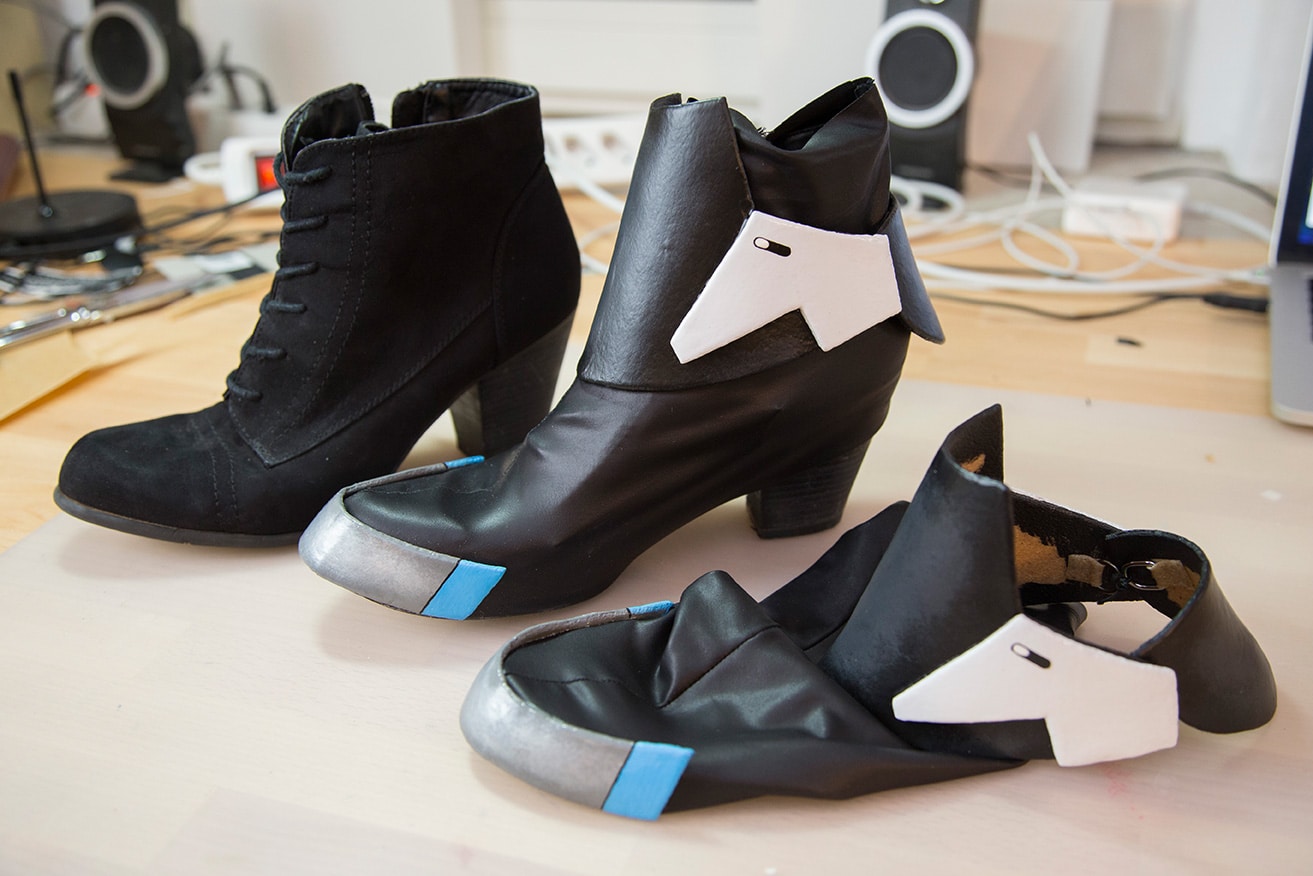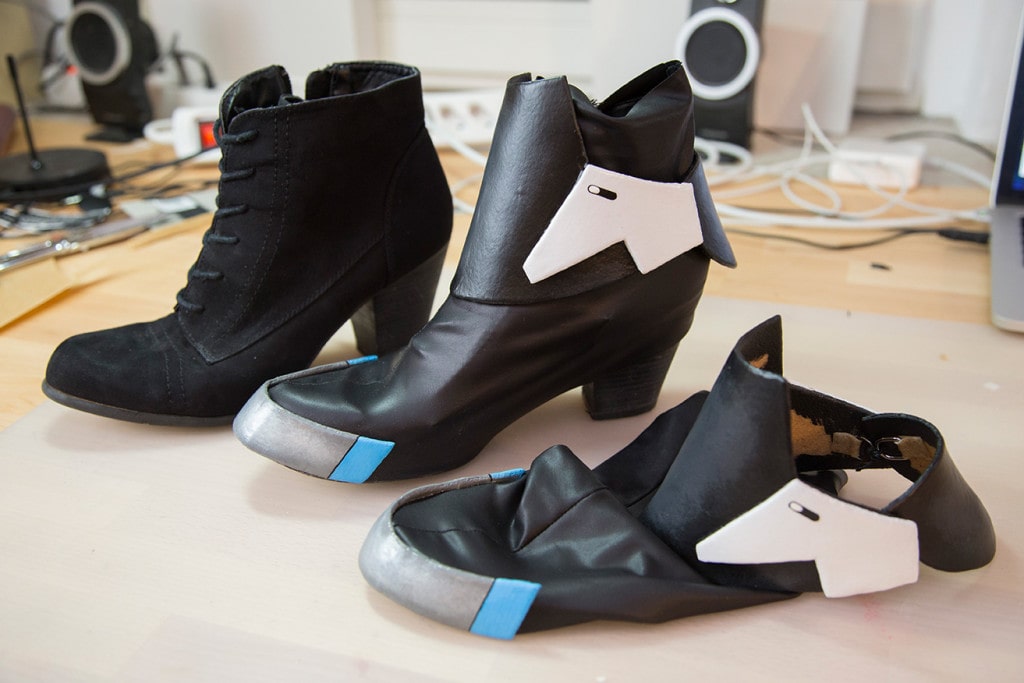 And the last part of the costume with an absolute lack of progress pictures was the dress! You know, I'm not a fan of sewing. I'm able to build the biggest, coolest prop you can imagine, but I will hardly fail if I have to sew a school uniform. And since I had only 2 weeks for the whole costume especially the dress suffered under my tight schedule. I got it done, yes, but if you sleep only 4 hours for several nights, then you make mistakes. And so I noticed far too late that I mirrored the dress. And no time left to redo the whole dress sadly. If you'll scroll up to the reference picture, you'll notice the mistake. But hopefully… you don't! :)
Buuuut… as you can see, all parts of the costume were done now! I didn't got any sleep the night before the convention, but I still was awake enough for a fast photoshoot in my studio at 2am, ha ha! Afterwards I've squished everything into my suitcase and jumped into the car!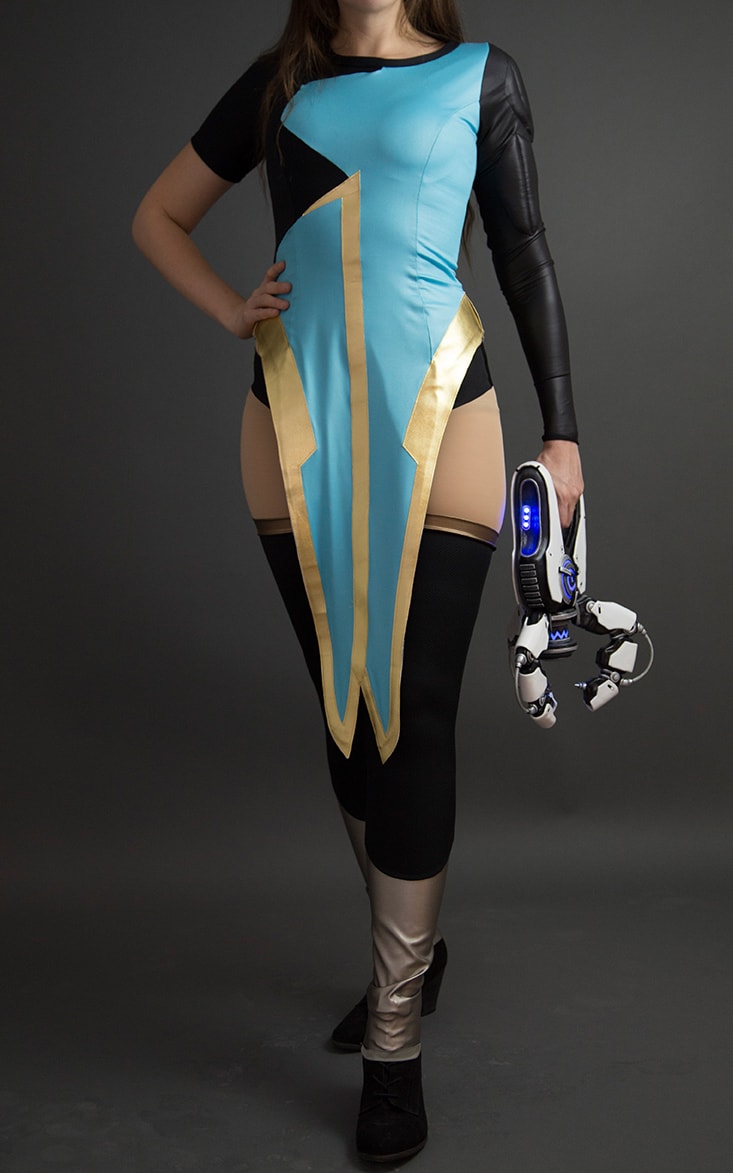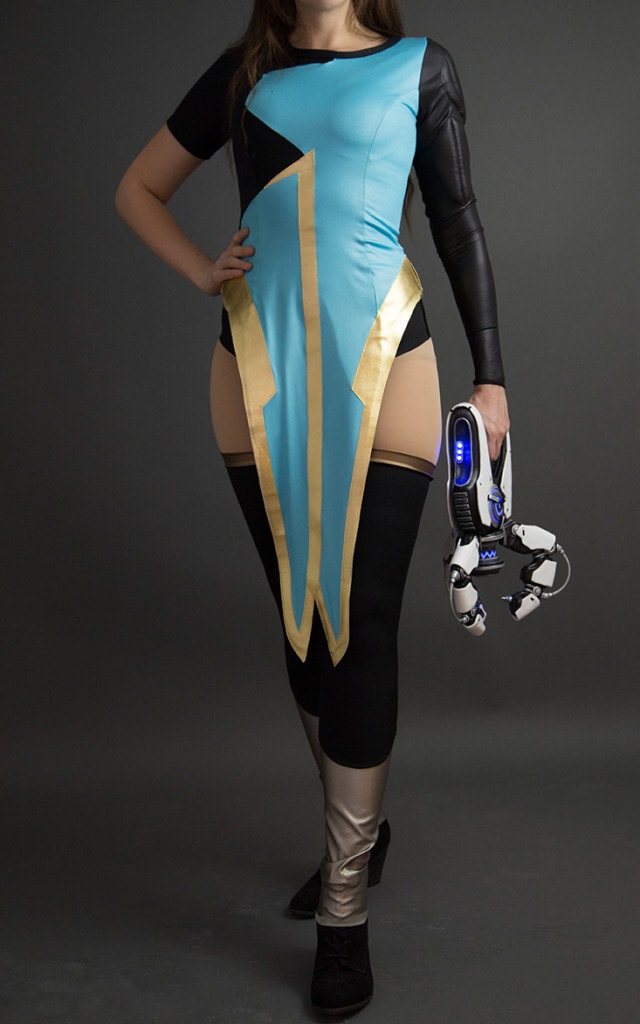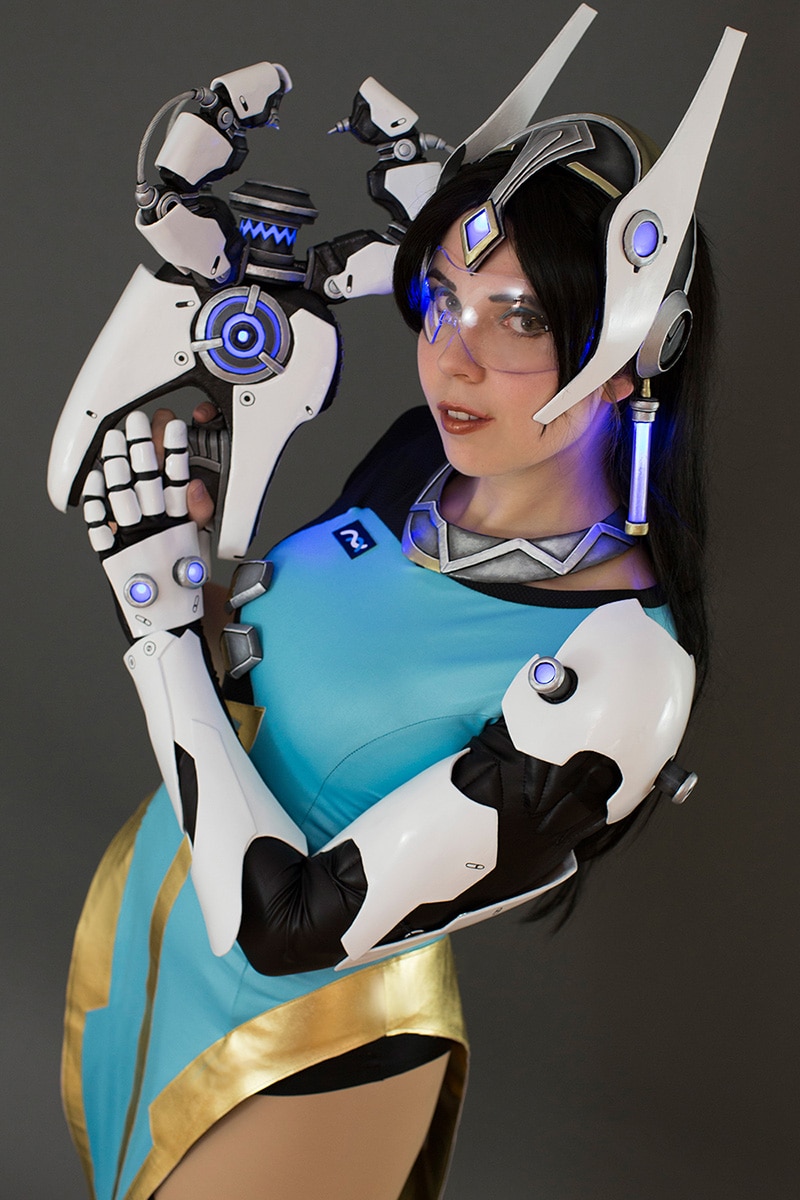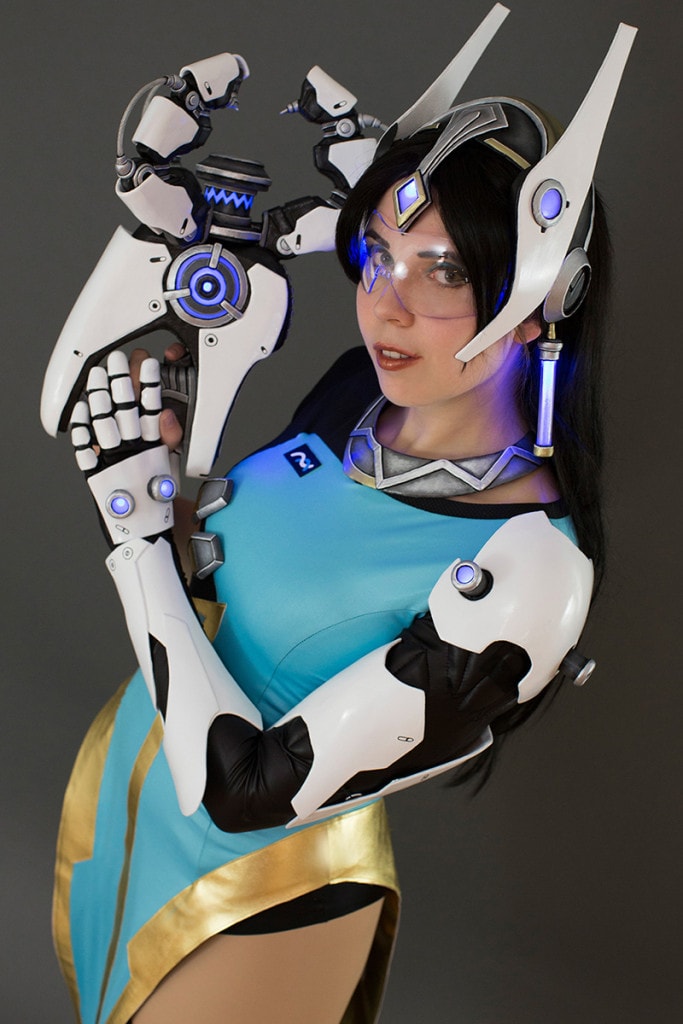 P.S: I KNOW Symmetra has a much darker skin tone then mine, but I believe everybody can dress up as whoever he or she wants, no matter of race, sex, bodyshape or anything else! Cosplay is for everybody and not just for look-a-likes of the character. Also, if you wonder why I didn't darken my skin, then please google for "blackface". This act might hurt and offense some people and I wanted to avoid this.
Soooo… I really hope you liked the progress and the final costume! Also if you still didn't have enough documentation, you can also watch my making of video on Youtube as I have a lot of more work steps covered in video form as I did with photos! Enjoy! :)